Final four announced for Eisteddfod Welsh Learner of the Year!
It was a great pleasure to hear that Hugh, Emma, Richard a Daniela, who attended Welsh for Adults classes at Bangor University, had reached the final round of the Welsh Learner of the Year at the Anglesey National Eisteddfod this year. Emma also works at the University in The Management Centre.
Ifor Gruffydd, Director, Learn Welsh North West said, "It's fantastic to see these talented and committed learners getting the recognition they deserve for the way they have learned Welsh to such a high standard. Each one has his/her own unique story, but what they have in common is the fact that learning Welsh has changed their lives for the better."
Chair of the Anglesey Eisteddfod Learners' Committee, Elwyn Hughes, said, "It was great to welcome everyone to Llangefni over the weekend for the semi-final, and we were very pleased with the high standard.
"It's a pity that we can't put everyone through to the final as all the entrants are so inspiring, not only to other learners but also to Welsh learners. It's a wonderful experience to meet and chat to all the competitors and find out why they've learnt Welsh and how it's shaped and changed their lives. We warmly congratulate each and every entrant, not only for competing but for their commitment to the language and our culture. We wish them all very well in the future."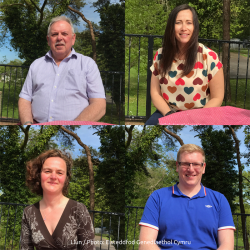 This year's adjudicators are Jenny Pye, R Alun Charles and Nia Roberts, and announcing the shortlist at Oriel Ynys Môn, Jenny Pye, said, "We've all enjoyed meeting all the entrants in this year's competition. The standard has been high and everyone's stories and experiences have been extremely interesting. Congratulations to everyone who's entered, and we look forward to meeting Emma, Dani, Hugh and Richard again in the final during Eisteddfod week."
Hugh Brightwell lives in Ellesmere Port, close to the Welsh border. Hugh attended Welsh classes and followed online courses, attending more than one class every week. He used the Memrise website to develop his vocabulary, and has attended a number of courses such as summer schools and day schools to improve his skills. Hugh said, "I was very nervous waiting for my interview because of the standard of Welsh by my fellow candidates. It was a huge shock for me to hear my name during the announcement, I couldn't believe it. I'm delighted to have the privilege to reach the final four of the Welsh Learner of the Year competition."
Emma Chappell was born in Cambridge and brought up in Royston, Hertfordshire, but now lives in Deiniolen, Gwynedd. Emma uses Welsh at work in Bangor University every day, with customers, students, staff and contractors, and is also part of the Welsh language action group and has helped other members of staff with their Welsh. Emma said, "I was shocked when my name was called as one of the four finalists as the standard of the other learners was very high, I hope I can inspire people to learn Welsh and live their lives in the language. I'd also like to say thank you to the Welsh for Adults and Canolfan Bedwyr tutors for their support over the years."
Richard Furniss lives in Llangefni with his wife, Delyth, and has been learning Welsh since 2005. He learnt Welsh by attending evening classes in Bangor and Llangefni through Bangor University, and he says his wife and in-laws have also been a great help while learning the language. Richard said, "It was an honour to have the opportunity to take part in the semi-final and nice to see so many people competing. It's fantastic that all four finalists have a connection with the University and shows the excellent work of the Learn Welsh North West team. I was very nervous prior to the interview and in shock when they announced my name. Now, I'm looking forward to the final and to see the other three that have reached the big day!"
Daniela Schlick is originally from Germany, but fell in love with Wales when she came here on holiday, so much so that when she returned home, she started learning Welsh. Two years ago, she felt confident enough speaking Welsh and left her home and job and moved to Menai Bridge. She immediately registered in a Welsh class, and has passed her Canolradd (Intermediate) course and is hoping to study the Uwch (Higher) course. Daniela said, "I'm very pleased to be one of the four finalists of the Welsh Learner of the Year, especially since the other competitors spoke Welsh incredibly well. We were interviewed by the judge and then for the programme 'Dal Ati' by Nia Parry this was a challenging and an exciting experience. When I went to Oriel Môn to compete I had nothing to lose. I felt I had won already, just by being able to compete and being nominated by a very good friend who believes in me. In fact the 4 of us have won. Away we go to the National Eisteddfod in Anglesey and to the final!"
The winner of the Welsh Learner of the Year will receive a trophy, donated by Rhian and Harri Pritchard, Cemaes, and £300 (Bangor University Welsh for Adults), and the other three finalists will also receive trophies, also donated by Rhian and Harri Pritchard, Cemaes, and £100 each (Teulu'r Wern, Talwrn). Finalists will also receive a year's subscription to the magazine, Golwg, and gifts from Merched y Wawr. The winner is invited to become a member of the Gorsedd.
Publication date: 25 May 2017