Chartered Banker MBA Gala Dinner September 2016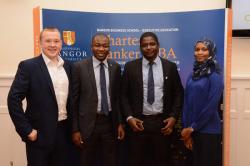 Chartered Banker MBA Gala Dinner Autumn 2016The Chartered Banker MBA hosted a Gala Dinner at The Management Centre, Bangor University on Tuesday 6th of September.
This great business event was attended by students, staff and business professionals - presenting an ideal forum for networking, establishing global banking connections and meeting like-minded business professionals in the banking and financial sector.
During this event Sir Nicholas Montagu, gave a keynote address.
You can see further photos of the Gala Dinner on our Facebook page here.
Publication date: 7 September 2016