Halls at St Mary's

All our accommodation is self-catering. Click on the hall names below for more details, including videos and virtual tours of the facilities, contract length and prices.
Studios
There are four different types of studio available; standard, premium, premium plus and deluxe. All studios have en-suite bedrooms with a private kitchenette.
Townhouses
Tudno Townhouses has around 124 rooms, with bathrooms that are shared between two students.
Video: St Mary's Village Tour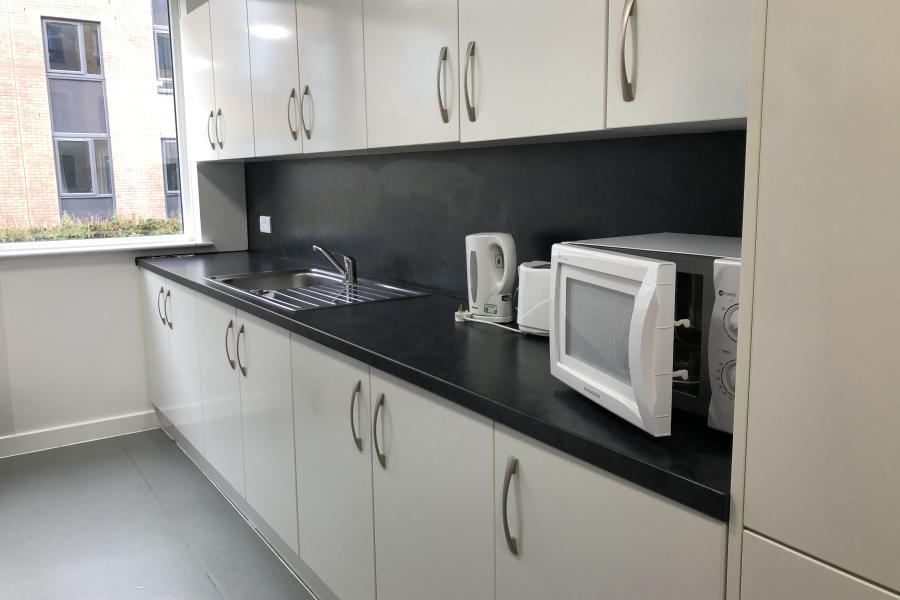 Virtual tours of our accommodation
Take a 360 tour of our accommodation at Ffriddoedd and St Mary's, including bedrooms and kitchens. 
What's nearby?  
It's easy to get to most places in Bangor from St Mary's. You can walk to the main University buildings, shops, bars restaurants and supermarkets. Use our campus map to see where University buildings are located, and take a look at our guide below.
(*All walking times are approximate)
University
Main University Building – 15 mins walk (Upper Bangor)

Arts Buildings – 15 mins walk (Upper Bangor)

Arts Library – 15 mins walk (Upper Bangor)

Healthcare Sciences – 15 mins walk (Fron Heulog, Upper Bangor)

Science Buildings – 10 mins walk (Deiniol Road, city centre)

Science Library – 10 mins walk (Deiniol Road)

Computer Science and Electronic Engineering - 15 mins walk (Dean Street, city centre)

Business School – 15 mins walk (Upper Bangor)

Ocean Sciences – 1 hour's walk (Menai Bridge)
Supermarkets
Morrisons – 15 mins walk (Upper Bangor)

Asda – 10 mins walk (city centre)

Aldi – 15 mins walk (city centre)

Lidl – 10 mins walk (city centre)

M&S – 15 mins walk (city centre)

Iceland – 10 mins walk (city centre)

Farmfoods – 30 mins walk (Caernarfon Road)

Tesco – 45 mins walk (Caernarfon Road)

Waitrose – 1 hour's walk (Menai Bridge)
Shops
High Street – 10 mins walk (city centre)

Out of town stores – 30 mins walk (Caernarfon Road)
Bars and clubs
Bar Uno – 20 mins walk (Ffriddoedd Village)

Academi – 10 mins walk (city centre)

Other bars, pubs and clubs are located throughout Bangor, in Upper Bangor and the city centre
Gym, sport and fitness
St Mary's fitness room – on site

Canolfan Brailsford sport centre – 20 mins walk (on site at Ffriddoedd Village)

Treborth playing fields – 50 mins walk (located next to the Menai Suspension Bridge)
Cafés
Barlows shop and café - on site

Bar Uno – 20 mins walk (on site at Ffriddoedd Village)
Cegin café - 10 mins walk (Pontio, city centre)

Teras café - 15 mins walk (Main University Building, Upper Bangor)

Local cafés are located throughout Bangor, in Upper Bangor and the city centre and in Menai Bridge
Restaurants and take-aways
10 mins walk, in city centre

20 mins walk, in Upper Bangor

30 mins walk, Caernarfon Road

45 mins walk in Menai Bridge
Transport
Bus stop - 10 mins walk

Train Station – 10 mins walk

Taxi Rank - 10 mins walk, in city centre or train station
Healthcare
Doctors' Surgery – 15 mins walk, near city centre

Pharmacy - 10 mins walk, in city centre

Hospital – 45 mins walk