Welcome to the Vice-Chancellor's Office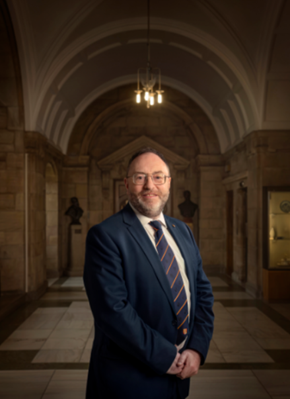 "I am extremely proud to be the Vice-Chancellor for Bangor University. We exist to create a sustainable and flourishing world to live in, for our planet, for our country and individuals across communities. Sustainability is a core value and guiding principle for the University, ranking 15th in the world, for our renowned research and commitment to safeguarding the environment. We are also a committed bilingual University, taking great pride in our Welsh heritage and language.  North Wales is an incredibly beautiful place to live and work and staff and students here, enjoy a rich experience and quality of life. Bangor University is award winning, for both student experience and for leading-edge research and innovation, that has far-reaching, global impact.  I am committed to driving forward our Strategy 2030 to ensure sustainable growth, exemplary education, research with impact world-wide, and outstanding student experience, so that the University upholds its role in in creating a healthy and prosperous world to live in." 
With a career dedicated to higher education and the pursuit of academic excellence, Professor Burke has held senior positions at the University of Nottingham, University of Stirling, Queen Mary University of London as well as, most recently, at the University of Leicester. He has a distinguished international research profile in Operational Research. His research investigates intelligent decision support methodologies in complex environments and lies at the interface of Computer Science and Mathematics. He is a Fellow of the Royal Academy of Engineering and President of the Operational Research Society.
As an institutional leader, he has demonstrated strategic vision and operational effectiveness by driving new initiatives, managing complex programmes of change and generating significant and sustainable growth. 
Vice-Chancellor's Office, Bangor University, Bangor, Gwynedd, LL57 2DG, UK
Contact Us
Vice-Chancellor's Office, Bangor University, Bangor, Gwynedd, LL57 2DG, UK