The third Bangor University / BIBF Alumnus of the Year was announced in September during a ceremony attended by Her Majesty's Ambassador to the Kingdom of Bahrain, Mr. Simon Martin and the Governor of the Central Bank of Bahrain and Chief Executive of BIBF, His Excellency Rasheed Mohammed Al Maraj.  The award was established in 2016 to recognise a graduate of Bangor and the Bahrain Institute of Banking and Finance (BIBF) who has achieved professional distinction.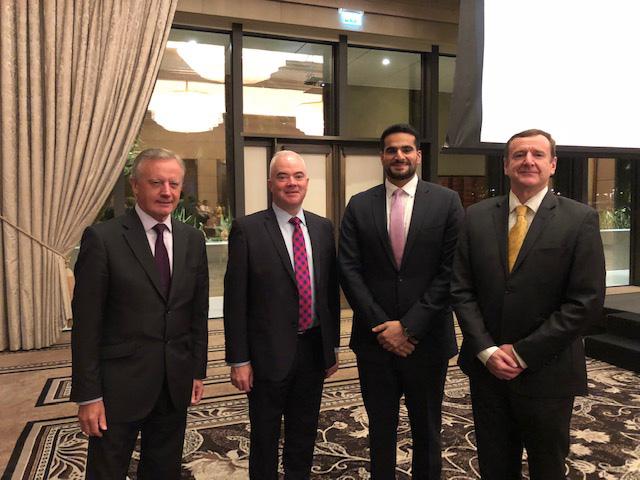 2018's awardee, Mohamed Al-Mahroos, has had a fast developing career since gaining his 1st Class Honors MSc in Banking and Finance from Bangor Business School's London Centre. After completing his studies in 2012, Mohamed returned to Bahrain and is now Senior Manager at PriceWaterhouseCoopers (PwC) where he assists multinational corporates and financial institutions in complying with VAT. He became a Chartered Certified Accountant in 2016 and is also a prolific blogger on all matters financial at The World of Finance in a Nutshell
The partnership between Bangor University and the Bahrain Institute of Banking and Finance was established in 2004 and is one of the most successful undergraduate programmes in Bahrain. It enables students to study a foundation year and the first two years of their degree in Bahrain and complete their final year in Bangor.
The Bangor / BIBF Alumnus of the Year 2018 award was presented to Mohamed by Prof. Andrew Edwards, Dean of College of Arts, Humanities and Business during the annual alumni reunion. Over 120 alumni attended the reunion, hosted by the President and Vice-Chancellor, Prof. John G. Hughes.
On receiving the award, Mohamed said "I feel very honoured to be named the Bangor / BIBF Alumnus of the Year 2018. I enjoyed my time at Bangor's Business School and certainly feel that the experience of studying there and the knowledge I gained has helped me progress in my career."
Prof. John G. Hughes said "We are delighted to have announced Mohamed as our Alumnus of the Year. We have a very special relationship with BIBF and this award highlights the achievements of our shared alumni, of whom we are very proud".