Ray Footman is Bangor University's Alumnus of the Year 2017.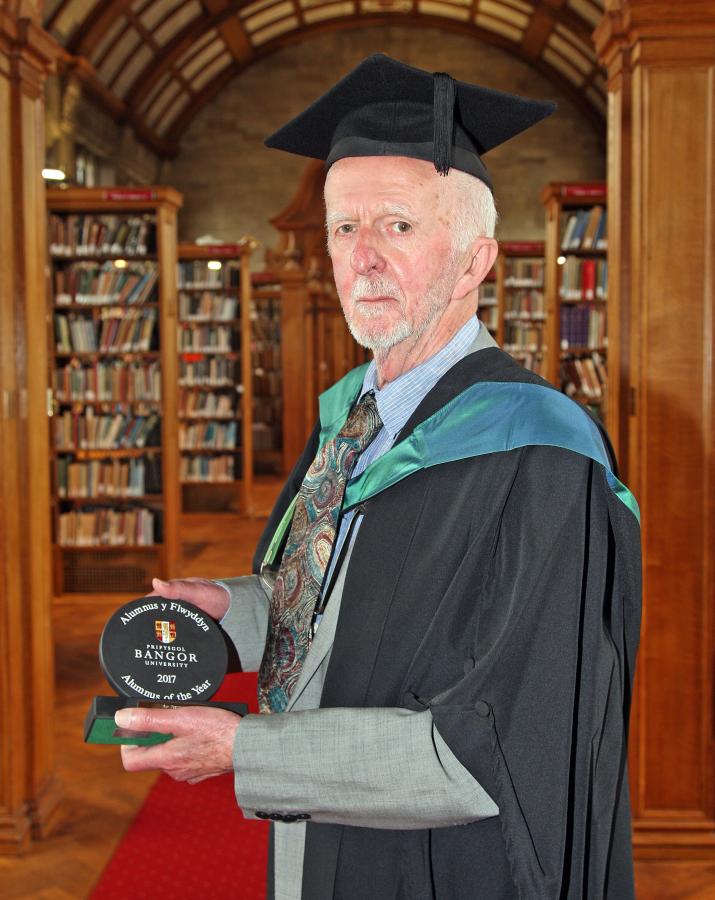 The Alumnus of the Year award recognises the achievements, both professional and personal, of our graduates, especially highlighting those who have chosen to remain engaged with their alma mater and give back, either through service, philanthropy, or both to the University. Ray graduated from Bangor in 1961 in History and Philosophy. After graduating, he served as Bangor's Students' Union President 1961-62. He joined Edinburgh University in 1969 as Head of Information for the Committee of Vice-Chancellors and Principals. In 1976, he was recruited from the CVCP in London to run the University's new information office.
In his role, Ray was instrumental in laying the foundations of the newly developing Development and Alumni Relations field in the UK. In 1982, in preparation for Edinburgh's 400th anniversary, Ray paid a six week visit to universities in the US and Canada to see how PR, alumni relations and fundraising were handled. The successful organisation of the 400th anniversary celebrations led to an expansion of Edinburgh's information office and the addition of an Alumni Officer, one of the earliest such full time appointments in the country. An appeal for funds connected to the anniversary raised £440,000 which resulted in the establishment of one of the earliest modern fundraising offices in a UK university.
In 1989, The Council for Advancement and Support of Education (CASE) - an international professional association for alumni, fundraising and marketing professionals - wanted to extend its work internationally, and Ray was part of a small group of UK professionals invited to be involved. His experience made him well-placed to interpret the North American scene to the wider higher education sector in the UK.
Ray was Director of Communications and Public Relations at the University of Edinburgh - which included the management of fundraising - until his retirement in 2002. He served as Chair of the Board of Trustees of CASE (Europe) and received the CASE Frank Ashmore Award for Services to Educational Advancement in 2001. He is the author of "Edinburgh University: An Illustrated Memoir" published in 1983.
Although he graduated from Bangor 56 years ago, Ray has always remained engaged with the University. His experience in the field of Development and Alumni Relations has been invaluable to the University whilst it developed its fundraising and alumni engagement programme. Ray is a former member and Chair of Bangor University's Alumni Advisory Board, a non-governing advisory group consisting of University alumni, and was instrumental in its development. Alumni Advisory Board members are advocates and enthusiastic communicators of Bangor's mission and vision, working to move forward the University's alumni relations programme and Ray has undoubtedly achieved these goals during his time as a board member. 
He and his wife Els are generous donors to the University and he has given his time and knowledge to organise and support a number of alumni reunions and events here in Bangor and elsewhere. 

Development and Alumni Relations Office