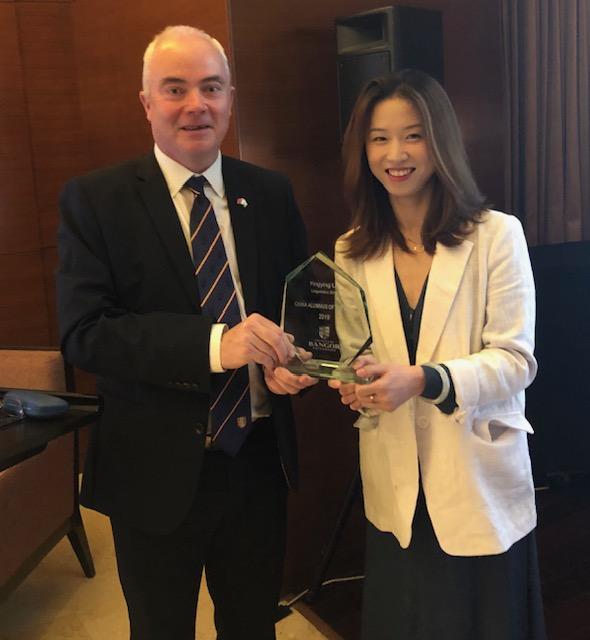 Congratulations to Yingying Liu who has been named as Bangor University's China Alumnus of the Year 2019. 
The China Alumnus of the Year award recognises the achievements, both professional and personal, of one of our Chinese alumni who has gone on to achieve distinction in their chosen field. This is the fourth China Alumnus of the Year to be awarded. Previous recipients are Prof. Yanjing Wu (Psychology, 2008), Michelle Han (MBA, 2004) and Juan Chen (Banking and Finance, 2003). 
Yingying is Investor Relations Director at Sunlands Online Education Group, China's leader in online post-secondary and professional education. Yingying came to Bangor in 2012 to read Linguistics and English Studies, graduating with a first-class degree in 2014. Alongside her degree, Yingying also found time to study a Teaching English as a Foreign Language qualification.
After graduating from Bangor, Yingying attended the University of Surrey where she received an MA in Business Interpreting in Chinese and English. She started her career as an interpreter in the UK, both in the private sectors and public services, interpreting for a variety of clients such as the UK Royal Family, CBBC, Davos Switzerland, HM Treasury, and the Chinese Academy of Science. She also worked as an interpreter at KL Communications where she was one of the interpreters for the state visit of President Xi Jinping and was responsible for a number of members of the Royal Family and the Chinese Minister of Foreign Affairs.
Her skills in interpreting and her communication strengths allowed her to work across industries, which led her to her career in investor relations management. Yingying started her role at Sunlands Online Education Group in 2017 where she is involved in the entire US IPO process, helping to manage prospectus drafting, financial modelling and valuation, organising and participating in roadshows and listing day activities and media interviews. 
On receiving the award, Yingying said: "I'm so happy to be given this honour. Bangor had a great impact on me, both personally and professionally. The opportunity to study abroad broadened my horizons, gave me the experience of a different style of education and have many varied experiences. I'm proud to be an alumna of Bangor University!"