Pijin/Pigeon, the award-winning novel by Alys Conran, creative writing lecturer in the School of Arts, Culture and Language has been adapted into a stage play and will be performed at Bangor University's arts and innovation centre Pontio and throughout Wales this spring, with the premiere at Pontio on Monday, 27 February.
It is a joint production between Theatr Genedlaethol Cymru and Theatr Iolo, in collaboration with Pontio.
Set in the shadow of the north Wales slate quarries in the early '90s, this is a gripping tale about growing up, the power of words, friendship and just how far people will go for love.
As rehearsals get underway, we caught up with Alys Conran to find out how she feels on seeing her best-selling novel being turned into a stage play….
How does it feel to have your award-winning novel become a play?
Alys: A chick (or a pigeon) flying the nest! I guess it must be a bit like when your child goes away to university, and comes back transformed as a person, but also maybe more themselves? You're proud and emotional at the same time. 
 Are you playing a big role in the production, for example, did you have a hand in scripting, casting, set design etc.?
Alys: I've tried to give them space to be creative because I think it's important, with adaptation, for the new work to be something in and of itself. I've just tried to support them to feel free with it, to develop their own relationships with these characters, and tried to afford them space to work in creative confidence.
My input was mostly near the beginning, discussing the essence of the work with Lee Lyford the director, and discussing ideas in a playful way with Bethan Marlow the dramatist, and Carl Davies who's designed the set. We went around the slate quarrying area for a walk, drank coffee, talked, and had Zoom calls, and then they went away and made this wonderful work.
I got to see the script in its first iteration, and the casting, and the set design and could give feedback if I wanted to, and I went down to Carmarthen for the first day of rehearsals, which was wonderful, incredible for me to have 35 people at one point in the rehearsal room, all in some way working for the production - when it was just me in my shed when I wrote the original novel. Their first readthrough was electrifying. I think this collaborative process is beautiful, and I've just wanted to make sure they felt free to let the process do its magic on the novel, without this narrow idea we have of an individual author being the authority on the work getting in the way.
What will you be most excited about/what makes you most nervous about seeing the play for the first time on opening night?
Alys: When you write novels, your readers get their own individual experience of the work, in the privacy of their own homes. Drama is not like that! That will be a new feeling for me. I'm nervous about sharing a space with so many people seeing Pijin/Pigeon at the same time, but I am looking forward to it too, because it is such an honour to have this incredible team working on an adaptation of my work. 
For more information and tour dates, visit https://theatr.cymru/en/shows/pijin-pigeon/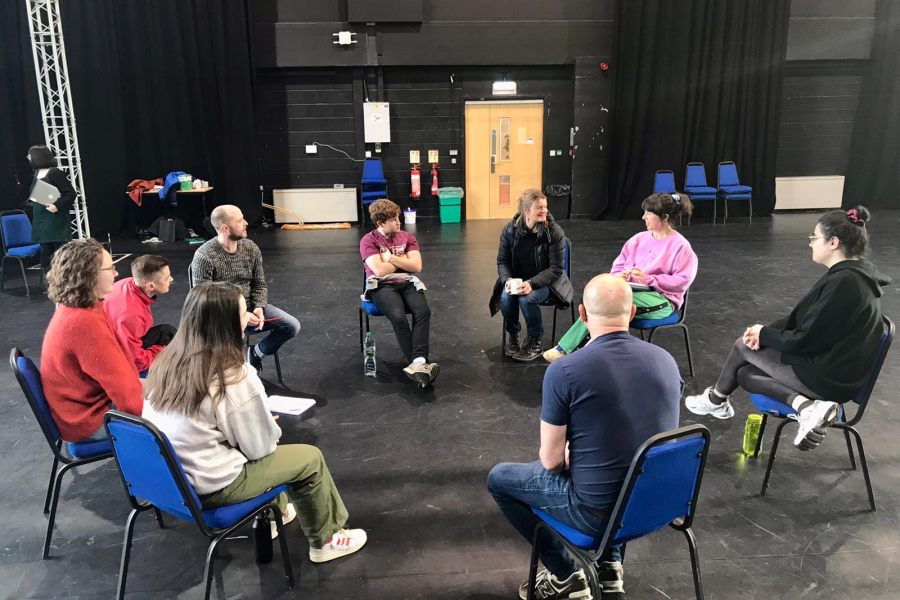 Video Pijin/Pigeon Theatr Genedlaethol Cymru