Hidden Worlds Exhibition
Interactive science for all the family!
Location:

Brambell Building, Deiniol Road, Bangor. (opposite Asda supermarket - free parking on the Bangor University Science site on Deiniol road.

Time:

Saturday 10 March 2018, 10:00–16:00

Contact:

b.s.f@bangor.ac.uk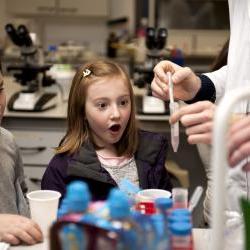 Prepare to be amazed by our natural history museum, science activities and live animals. Tours of the aquarium and research facilities. As well as live flash bang chemistry shows
A little taste of what to expect this year:
Worms and adaptions to soil cultures
Regional Wildlife- Display by the RSPB
Bird flight- a kinetic art installation
Mussel Ropes, Microscopes and Sonar Treasure Hunt
National Research Network for Low Carbon, Energy and Environment Display
Plastics in the Oceans- Damage to the local wildlife
Beach clean- Damage of harmful wastes and rejuvenation of local beach
The Hidden Inner world of recycling with demonstrations
Make your own paper
Science in Welsh- Welsh Language Display
Science in Language- Sign Languages and Deaf Culture
The Science of Combination Safe Electronics
Marine Life Touch Tanks
Life Cycles of Uk Amphibians
Fossils of the Jurassic Era
The Science of Psychological Illusions
Science of the Human Brain and Mind
Hidden World of the Human Body
The Hidden World of Nuclear Research
Reptiles and Insects display
The World of Urban Agricultural Systems
The Gamification of Programming
Virtual Reality Games and Demonstrations
Hidden World of regional plantlife
FREE. Public Event 10.00am - 4.00pm All Welcome.