Future-proof your business with Bangor University – skill-share sessions
On 8th March Bangor University held its first skill-share session, at the new science park, M-Sparc in Gaerwen, Ynys Môn.
Despite the heavy snow staff and participants attended the breakfast event, designed to encourage companies to think strategically about their business, to share ideas, and secure their business' future.
During the event, Chris Walker facilitated a practical session: 'kick-starting innovative ideas for future-proofing your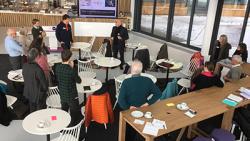 business'. In this highly interactive session participants explored the skills, tools and knowledge required to develop innovative and long-term sustainable solutions for businesses to thrive and survive.
Chris is highly experienced with supporting and mentoring businesses; from SMEs to global companies, both nationally and internationally. Chris is part of the core NWBA team – delivering and mentoring on the SBA module, as well as on some Phase 2 modules.
Our next breakfast event will be on Tuesday 17th April, 8am – 10am
Location: Henfaes Research Centre, Abergwyngregyn.
Guest speaker: Lesley Rider
Special topic: 'Avoiding Killer Projects – what can cause a project to fail?'
Lesley has over 30 years' experience consulting and lecturing around the world: specialising in Strategy, Project and Programme Management practices and techniques. Lesley has worked with a wide range of businesses; from global corporates such as Barclays Bank, Aid organisations such as GTZ; and numerous social enterprises.
From 10am a tour of the Research Centre will be open to those who would like to take the opportunity to see the facilities and grounds.
These sessions are for business owners, managers or supervisors, to raise awareness of opportunities available at Bangor University.
These sessions are free to attend.
Publication date: 27 March 2018