Student Profile: Ahmed Dhaif – MSc Management and Finance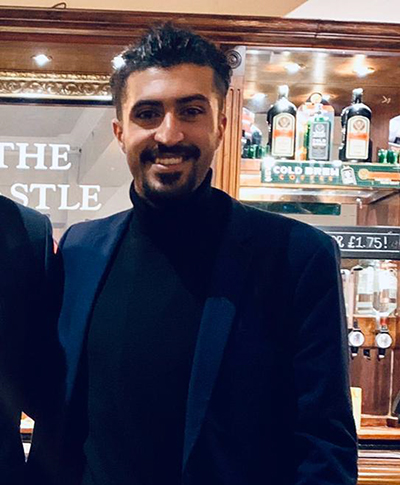 Ahmed Dhaif
Why Bangor
I did my Bachelors in (BIBF) Bahrain institute of Banking and Finance in which Bangor university have a validated program with the BIBF. Upon completion my bachelors in Bahrain, I decided to come to Bangor and pursue my masters.
The International Ambassador Scheme
Giving back to the community and helping others has always been a priority for me in my life. New students have got in hand multiple questions and a bit of fear which is very normal, us humans fear what we don't know. Being an ambassador and being able to share my experience and advice to people who need it is the main reason behind wanting to become an ambassador along with being able to represent my university and school in best way I can.
What is the most difficult thing about being an International Student?
Personally, speaking I haven't had any difficulties so far as an international student. It was so easy to blend in and settle with the community and the city itself. Unfortunately, from observation and discussion with various international students, I concluded that the language and understanding is currently an issue for some if not many international students.
The Course
I personally love finance very much, but I also love being involved in managerial roles, being up ahead and lead. Bangor University is one of the very few having a master's degree with combination of management and finance, and upon graduation we receive a level 7 CMI (Chartered Management institute) degree in Strategic Management and Leadership as well, I mean what more can we ask for, considering its a 1 year program.
The Lecturers
My lecturers are on a whole different level, each one of them is a powerhouse of knowledge mixed with pure humble and respect to us students, something that caused me a culture shock, when a professor asks her or his student to just call him or her by their first name and not professor. Hats off for every single one of them for their pure class communication with us students and the knowledge they have in hand.
Clubs and Societies
I am involved in the tennis club, and I am a player of the first team.
Bangor and the area
The fact that you can walk around anywhere in the entire city, I come from a country where we drive everywhere even if it was a 2 minutes' walk, we would drive it instead. Walking for me is a luxury so might as well enjoy the most of it since I am here.
The best thing about Bangor
The Welsh and the people living in Bangor are just very accommodative and down to earth, making it very easy to blend in with society. I appreciate the small things in life, so I believe Bangor offers everything a student need.
Support from the university
I have never felt left out to be honest for whenever I had an inquiry or an issue that I would needed to be resolved. My personal tutor happens to be one my amazing lecturers this semester so I can she has been complete set of aces and nothing less. I am not sure if I can or cannot mention her name, but she is professor Lynn Hodgkinson she deserves all the respect in the world for the effort she is putting in.
Advice for new international students
Please get involved in clubs and societies from the very first beginning. If you play a specific sport prior to joining Bangor university, they will have a club for that sport. Attend the workshops and seminars and meet as many people as you can. Attend your classes and engage with the lecturers, the more you engage and express yourself the more things you will learn, and the lecturers will be more than happy to answer you. Living expenses are low comparing to other parts of the UK, Get involved in all the activities organized by the international student support team, you get to meet other international students and have many friends.
The future
To achieve another distinction degree from Bangor University, and hopefully find a permanent job either here in Bangor which is very optimistic, or somewhere in the UK.