Student Profile: Khalil Amamra – MBA in Environmental Management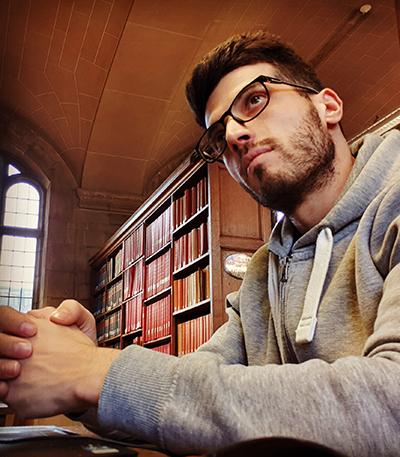 Khalil Amamra
Why Bangor
I got many offers from different universities in the UK, and after a lot of research I found that Bangor University was the best choice for me, because the university was ranked gold in teaching excellence and ranked in the top ten for student satisfaction. I would like to say that I made the best choice for choosing Bangor, because I love being in a small and calm city surrounded by amazing landscapes which remind me of my home city Batna.
The International Ambassadors scheme
As an active student who loves helping and volunteering, the international ambassador scheme is the best opportunity for me to help other potential students from all around the world, and assist them with knowing where they will be studying before their coming and helping them to settle in the best way possible.
What is the most difficult thing about being an International Student?
To be honest I did not face any difficulties for being an international student here in Bangor, but it was completely the opposite, thanks to the International Student Support Office. However, I can say that sometimes you may feel a little bit home sick because you miss your family and friends, which is completely normal.
The course
I have always had a very specific goal in my life, which is to study in a very prestigious university in a very reputed country like the UK. The best thing about doing an MBA in environmental management in Bangor university is the combination between taking modules from the very reputed business school, and benefiting from the high expertise of the naturel science school.
The lecturers
The best thing about studying in the business school and Bangor University in general, is without any doubt the exceptional way of teaching.
Clubs and Societies?
The best thing about Bangor University is whatever your hobbies are, you can always find people who share the same passion about it. Being a member of the athletic, triathlon, and cycling university sports club I always find myself very busy practicing my favourite sports and making a lot of friends. I enjoy being part of the conservation and environmental action society, which make you contribute to plan for a sustainable world with people who have the same reflections and thoughts.
Bangor and the area
Living in Bangor allows you to make a lot of friends from all around the world. You can enjoy walking, practicing outdoors sports, visiting Snowdonia, or enjoying the amazing Anglesey beaches nearby.
The best thing about living in Bangor
Everything!
Support from the University
Everyone in Bangor has been very supportive, welcoming and friendly from the international student support team to lecturers and tutors.
Advice for new international students
They will get the most unforgettable experience of their life.
The future
When I will graduate, I will postulate for a PhD in environmental science in Bangor University. During the same time, I will create my own start-up back home in sustainable development, consultancy and green technologies.