Student Profile: Sandy Paola Perez-Robles – PhD in Finance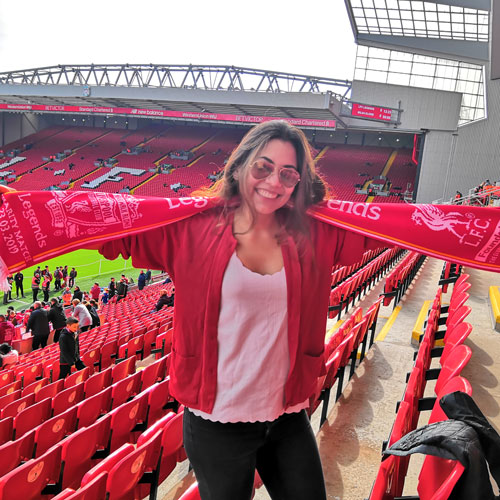 Sandy Paola Perez-Robles
Why Bangor?
When I was studying as an undergraduate I always wanted to have experience living abroad, improve my English and meet people from all over the world. Finally, in 2015, I contacted an educational agency where Diana, the representative told me about Bangor. She highly recommended Bangor University. I started to do my own research about the University, the course and the academic level.  I saw pictures and watched videos of the beautiful landscape and finally I just thought, well, it looks lovely, Bangor is the place I am looking for - and yes it still is.
The International Ambassador Scheme...
The International Ambassador scheme aims to provide a community of guidance and support for new students by building a point of contact where they can find help and a warm welcome.
The International Support Office organises activities where students can feel that support, meet new people and see the beautiful scenery that Wales has to offer. I want to become an Ambassador to cheer new students to fall in love with Wales as I have done and to learn about other cultures. Personally, I feel so curious about how similar we end up being no matter the place we come from.
What is the most difficult thing about being an International Student?
In the beginning, the most difficult thing is to realise that you have to take care of yourself in every way (be aware of deadlines, sleep well, eat well, and so on). There is no mama and papa to do it for you. Therefore, you have to build responsibility and mental strength to enjoy your experience but also assume the things that independence carries on. That is a good thing though, just at the beginning can be shocking. For me, another difficult thing can be when Christmas and New Year are coming, I would like to go straight home but other than that, I love living abroad.
The Course
The best thing about my experience during my Master's course was that I had outstanding lecturers with experience that helped me to transfer the theory into practical situations. Regarding my PhD studies, the structure of the program, support and guidance from my supervisors are exceptional. In addition, I have had the opportunity to do some teaching, which I find a unique selling point of the Business School.
The Lecturers
Bangor Business School has a multi-diverse team and several research areas. The lecturers are very friendly and they aim to guide students both in personal and academic development. The best thing is to feel a supportive environment and supervisors that care about your growth and advise you in the best way they can.
Clubs & Societies
I am a member of the Latin American society as well as the PhD DocSoc Society. Whenever I can, I also love to join the walks of the University mountain walking club.  I enjoy going to the university gym to do classes of kettlebells, boxing, circuits and so on. They are amazing and really help me to keep healthy and release the stress of daily life.
Bangor and the area
Everything is organised in this country and there are so many places to visit. I love running whenever I can as well as exploring on my bike around the cycle routes. I also love to go for walks with friends the area. My favourite walk is around Porth Llanlleiana and I have been swimming in a spot near Porth Dafarch in summer.
The best thing about living in Bangor>
The quality of life - everything is very close! Most of the time you do not have to take buses to get to places. For me, Bangor is the perfect place to study, to connect yourself with nature and to open your mind by meeting people from all over the world.
Support from the University
When I first arrived I was feeling nervous with the language especially when I was submitting assignments for my Masters. However, I found that the University provides support by booking sessions with tutors who can help students to get advice; those sessions definitely made me feel more confident with my writing skills and get good grades.
Advice for new International Students
Work hard but also play hard. Try to make the most of the lectures, by participating in the classes. Try to join university trips as much as you can, and try to meet people from all over the world, not only people from your own country.
The Future
I hope to complete my PhD in the next two years. After that, I have an open mind. So far, I would like to get some work experience anywhere in Europe, aligning my previous job experience as a business consultant, with some of the skills that I am developing in my PhD.