09/23 Bangor University Fitness – Gym Membership Winner Continues Journey
With autumn rolling in, joining the university gym may be a great way to energise and stay active during chillier days.
There are also many other active sessions for staff for free or reduced rates:
The Bangor University Active Staff programme is ongoing. 
Staff Tai Chi sessions are running until the 14th December.
Movement and Stretch Sessions are currently being held every Wednesday, 12;15-12:45, Canolfan Brailsford. You can email brailsford@bangor.ac.uk to book your place.
The below blog was written by Iain Lettice, Senior Clerical officer, School of Ocean Sciences.
If you have a wellbeing experience you would like to share, please email staffhealthandwellbeing@bangor.ac.uk to discuss.
LIVING YOUR BEST LIFE, THE REST OF YOUR LIFE
A blog by Iain Lettice, Senior Clerical officer, School of Ocean Sciences
A little while ago I won a month's membership at Canolfan Brailsford, the University's gym after taking part in the university's health and wellbeing survey. I spent a lot of time on the cross-trainer, stepper, and rowing machine.
But now… I've got a different strategy for the gym, and I'm a fully paid-up member.
Here's why….
All original thought, facts, figures, and examples are taken from content produced by Peter Attia MD, the author of the book 'Outlive - The Science & Art of Longevity'. You can support him by following him on social media @PeterAttiaMD and buying his book.
Healthspan, Lifesspan and Longevity for 40+ year old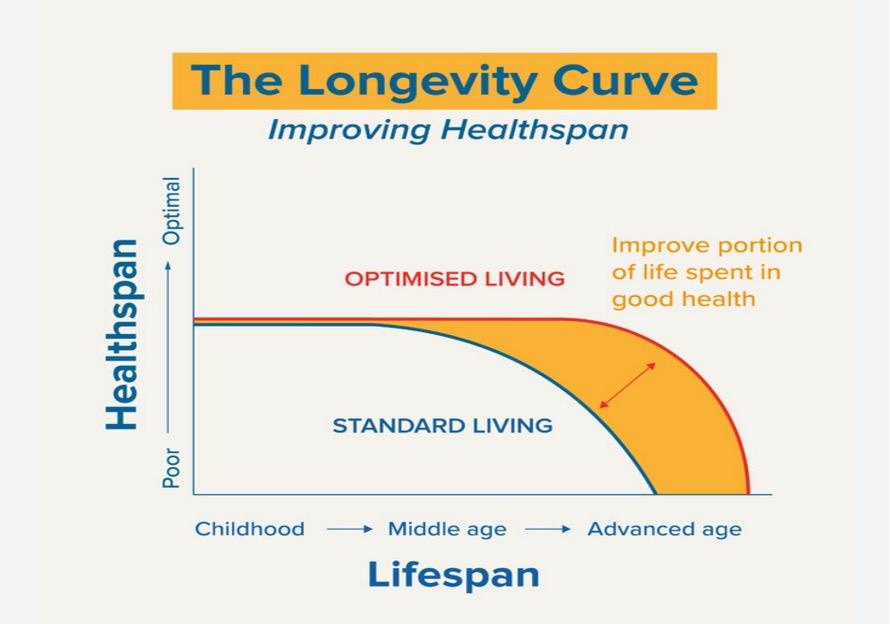 If 'healthspan' is defined as your quality of life over time, and 'lifespan' is defined as the length of your life, then why not aim to change your lifestyle so that you can have the best possible healthspan over the entirety of your remaining lifespan?!
Let's have a look at healthspan first.
If we represent healthspan as a number, then the higher its value, the better your standard of life is.
According to Peter Attia MD, healthspan (quality of life over time) has two main drivers. The first is 'Cognition' and the second is 'Physical Performance'.
Why are they his main drivers? Well…
As our mind deteriorates, so our quality of life falls away. And… As our ability to physically do things deteriorates, so the quality of our lives falls away again.
Both drivers are age-dependent. They both decline reasonably predictably with age, and that's why traditionally the quality of our life falls away with age.
Now let's dive into 'Lifespan'.
This is much simpler. If we represent lifespan as a number, it equates to the number of years we have lived. The higher the value, the longer we have lived.
Bringing the two together…
As lifespan increases, healthspan falls away until it reaches zero at our deaths. You can see this in the picture above.
Traditional medicine tends to get involved just before we reach zero. It can increase our lifespan at this stage by a few years, but it can very rarely increase our healthspan much over those final years.
We tend to have a poor quality of life at the back end of our lifespan. This leaves us with a couple of questions:
A couple of good questions... 
What's the point of increasing our lifespan if we are suffering with a low healthspan over that extra lifespan?
And on the flip side of this…
Why don't we increase our healthspan NOW so that we can forestall its inevitable decline. By taking consistent action from now, we can put off and slow its inevitable decline over time? The, we will be spending a much larger portion of our lives in enjoyable good health.
The decline with age is not set in stone. Hard work and a strategy can turn things back in our favour.
This is where Peter Attia (MD) and his book, 'Outlive – the science and art of longevity' comes in. It gives us a framework for how to grow old disgracefully well.
Goals for later lifes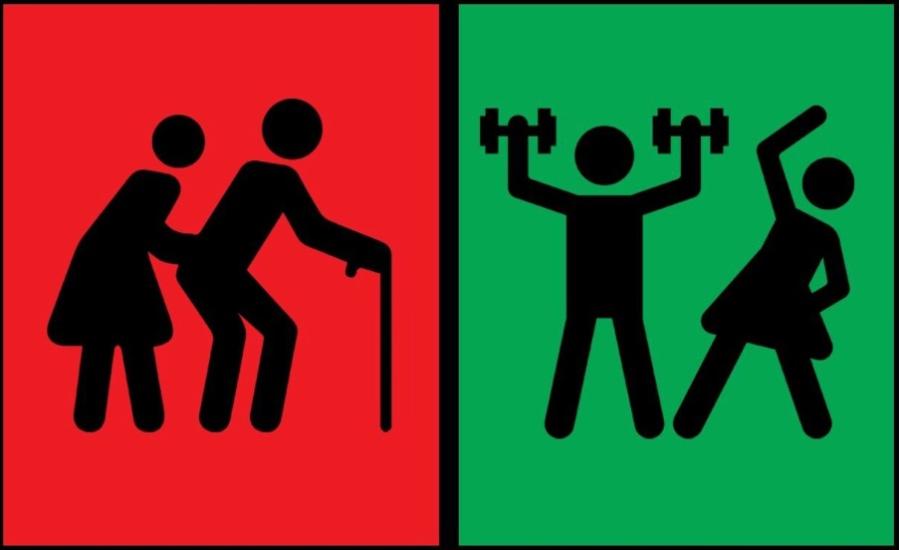 'Outlive – the science and art of longevity' helps you to define what you would like to be able to do well now AND for the rest of your life despite the predictable decline that comes with age.
Once you have defined your goals, you can determine exactly how and what training you need to do as an individual to achieve your unique goals into old age.
These goals for later life can be based around physical tasks you want to be able to do in daily living, or athletic aspirations, or simply things you need to help you have fun in your personal interests.
Goals for later life could be things like:
Walk a couple of miles in hilly terrain with a rucksack on your back.
Getting up off the floor easily
Picking a grandchild up from the floor.
Carrying a couple of heavy shopping bags for ½ mile.
Lifting a carry-on bag and putting it into the overhead locker on a plane
Carrying your suitcases around an airport, on and off a coach, and up the stairs to your hotel room.
Climbing 4+ flights of stairs easily
Twisting open a brand-new jar
Walking up a steep hill.
Running a 5K, 10K, or even the London marathon at 100 years old (yes there are 100-year-olds that can do that!)
Putting your shoes and socks on and clipping your toenails.
Getting easily in and out of a low car.
These things can help you to visualise the level of fitness and suppleness you will need to build and maintain to live a good life when you are in the final decades of your life.
They provide a template for training… right now.
They give you a reason to get to the gym in the first place, or to train with a purpose when you are there. Regularly spending an hour on the cross-trainer isn't a bad thing, but it won't help you live a good life in your 80s or 90s.
Our inevitable decline with age
Now let's put these things in context.
Your muscle strength declines 8 to 17% per decade from 40 years old, accelerating with time. If you average this out at 15% per decade, that's a decline of around 60% between 40 and 80 years old.
Your VO2 Max declines at roughly 10% per decade from 30 years old. If we take another base line at 40, then that's a decline of around 40% between 40 and 80 years old.
Let's say you are 40 years old now.
If you want to pick up a 2 stone grandchild at 80, you'll need to be able to pick up a 3.2 stone child with ease now.
If you want to put a 10kg bag in an overhead locker on an airplane when you are 80, you will need to be able to lift a 16kg weight over your head at 40.
Walking comfortably on a hilly outdoor path at 40 takes a VO2 Max of around 30ml/kg/min. If you want to be able to do that at 80, you will need to have a VO2 Max of 42ml/kg/min now.
If you want to be able to climb 4 flights of stairs at 80, you will need to be able to sprint up those same flights of stairs at 40.
Ambitious aims for a 90-year-old 
Video: WWII vet jumps from a plane on his 100th birthday
In every case, we need to be doing much more now to armour ourselves against decline with age. We need to start building our strength, suppleness, and aerobic capacity now.
This is an ambitious aim, but it's something we can achieve. It helps us redefine what is possible in our later years and wipe away the stereotype that we will be weak and incapable when we get there.
We can create a new narrative of 90+ year-olds that can carry their luggage around an airport, board a plane, stow their bags in the overhead locker, and get their luggage up the stairs of a hotel… under their own power.
There are 90-year-olds that are running marathons, weightlifting, flying airplanes, and parachuting out of them -let alone boarding them. They are doing all sorts of other amazing things... right now.
What's next for me…
As I explained at the start of this blog, a little while ago I won a month's membership at Canolfan Brailsford, the University's gym. I did spend a lot of time on the cross-trainer, stepper, and rowing machine.
But now… I've got a different strategy for the gym. I'm a fully paid-up member. After reading Peter Attia MD's book, I'm going to come up with my own goals, and then talk to the gym staff to help me put together a 'Longevity' plan.
I want to grow old disgracefully well! Please feel free to contact me if you want to do the same. I could do with some accountability buddies. You can reach me on i.lettice@bangor.ac.uk.