12/22 Funding Allocated to Wellbeing Projects for 2023
The most recent round of HEFCW well-being and health funding will enable Bangor University to meet its strategic health and wellbeing aims with a series of innovative projects that will support the wellbeing of both staff and students throughout 2023.
The BU Strategy 2020-24 brings four key aims to the forefront of our health and wellbeing activities, namely: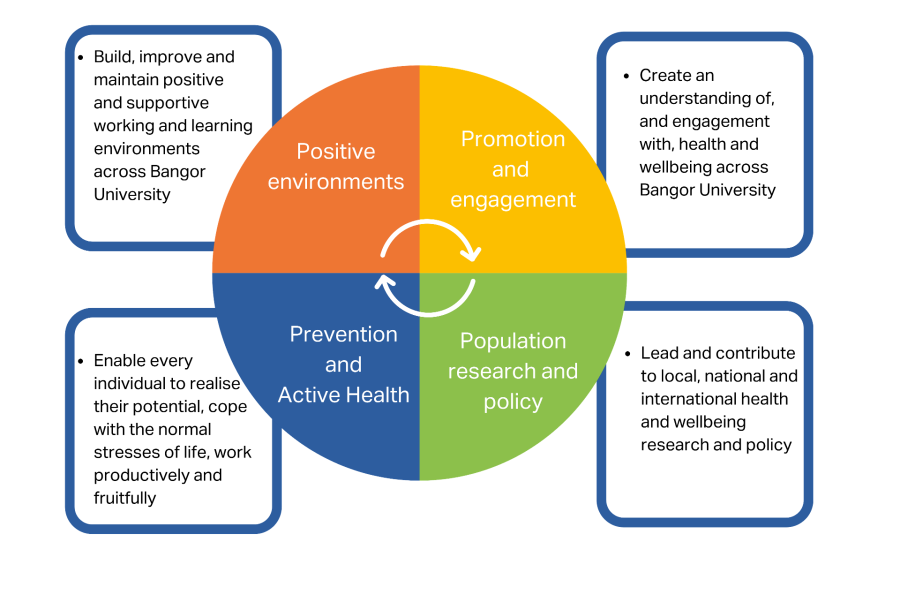 In September 2022 colleagues were invited to submit funding proposals for the HEFCW monies to the University's Health and Wellbeing Strategic Board.
Professor Nicky Callow said, "We received thoughtful and original project proposals, with those that were awarded funding having great potential to benefit the wellbeing of staff and students.
"It is fantastic to see how far we have progressed in the past three years with our Healthy University agenda, and towards our strategic aims. I would also like to take this opportunity to thank Dr Gemma Griffiths, whose tenureship as APVC for health and wellbeing ended this month, for her hard work, dedication and direction with this important agenda, and to wish Andrew Edwards all the best as he takes forward health and wellbeing within his PVC portfolio."
The successful projects under our strategic aims are:
Positive Environments
Wellbeing packs for Wrexham Campus Students
Providing students with wellbeing packs that are plastic-free, sustainable, locally- sourced and environmentally friendly. The packs will be provided to new students at the Wrexham campus with the aim of promoting a sense of belonging and a focal point for providing information about how to seek support for their wellbeing.
All-Staff Menopause Lounge Series
Resulting from a successful pilot within the School of Human & Behavioural Sciences, all staff have been welcomed to join a six-part series beginning December 2022. Each of the monthly Menopause Lounge sessions will feature a specific learning focus around Menopause and maximising health for a more positive menopause experience, followed by a Q&A and an opportunity for informal peer-to-peer chats in a safe and supportive environment.
Health Promotion and Engagement
Welsh Medium Mental Health Provision (myf.cymru)
The myf.cymru website is a student-led, clinically-reviewed source of resources and peer support for mental health offered through the medium of Welsh. Instead of merely translating English language resources into Welsh, the content on the site is sourced through the Welsh language community so that it is relevant to the specific linguistic and culture needs of the Welsh speaking student community. The website is freely available to all Welsh speaking students and is supported by active social media channels. This two-year project was led by Bangor in collaboration with Aberystwyth and Trinity Saint David and will continue to promote the wellbeing of Welsh-speaking students across all three institutions into 2023, thanks to a continuation of the HEFCW grant that enabled its initial development.
Piloting an e-module for Staff about 'Psychological Flexibility'
From HEFCW funding in 20/21, colleagues in the School of Education developed an interactive e-Learning module for staff that uses evidence-based models to promote knowledge and exploration around themes of health and wellbeing.
Building on this, the 22/23 funding will provide for staff time to support the following activities: a pilot scheme will be tested on a small sample of staff, and focus groups will be held to help revise the e-learning module based on their feedback, with the ultimate aim of offering this to all staff across the University by 2024.
Prevention and Active Health
Bystander training
In 2021 Bangor Student Services was supported by HEFCW funds to develop its own in-house bilingual Bystander Intervention training tailored to the University and its context. Whilst it prioritises sexual violence as the main focus, it also seeks to address other forms of violence and harassment, such as racial abuse and hate crime, recognising the intersecting nature of different protected characteristics on gender- based violence. In 2023 Student Services will deliver 1.5 hours of Bystander Intervention Training to all first-year undergraduate students – in total, an estimated 1000 students will be positively impacted by this training provision, and around 50 staff members.
Population Research and Policy
Wellbeing project for post-graduate research students (PGRs)
This project is a 12-month well-being project to explore factors which may protect or exacerbate the risk of well-being problems in PGRs. The funding will provide salaried time and resources to support a postdoctoral researcher to survey PGRs about their wellbeing at several points throughout the year. This will enable the University to put evidenced-based interventions in place for PGR students. The survey will be made available bilingually.
For more information on any of the above projects please contact Anna Quinn a.quinn@bangor.ac.uk.