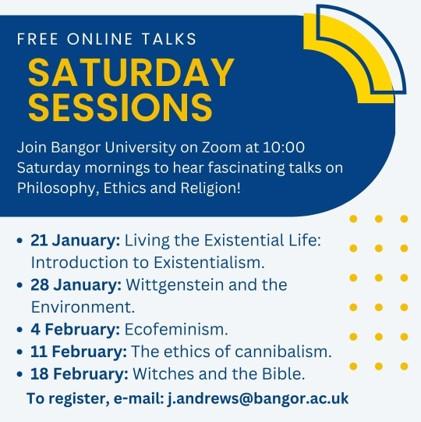 Every Saturday morning at 10am from January to March 2023, the School of History, Law and Social Sciences will be holding a series of different talks linked to philosophy, ethics and religion to give prospective students a taste of what we offer at Bangor. 
As Dr Joshua Andrews, Lecturer of Religion and Ethics, comments. 'The aim of the series is to demonstrate to prospective students, school students, their teachers, and all members of the public what we offer here at Bangor. The range of subjects that we cover is vast, from ethics of food to paganism and LGBTQIA+, to philosophy and the environment, and this is an opportunity to promote just that.' 
In addition to members of staff from the School, some of the current students will be holding a few sessions also. This is an integral opportunity according to Dr Gareth Evans-Jones, Lecturer of Religion and Philosophy, 'It will give some of our postgraduate students and a few undergraduate students the chance to develop their presentation skills and hold specialist sessions on subjects they have become very familiar with, which is fantastic.'  
The series is free to attend and is held via Zoom. To register, contact Dr Joshua Andrews: j.andrews@bangor.ac.uk.