The Centre for Pentecostal and Charismatic Studies (CPCS) was founded in 2001 under the direction of Dr William K. Kay. It was the first UK university centre devoted specifically to the academic study of the Pentecostal and Charismatic movements. From its inception, the CPCS was characterized by visionary and innovative leadership that sought to establish and secure collaborative relationships across the global expanse of these vast movements that would make available training at the highest academic level to members of its constituency and others interested in these burgeoning traditions. Through the pioneering work of Dr Kay the Centre became known for its numerous partnerships with colleges of higher learning in the UK, Europe, Singapore, the Philippines, and the USA. In 2008 Professor John Christopher Thomas joined the CPCS as its Associate Director.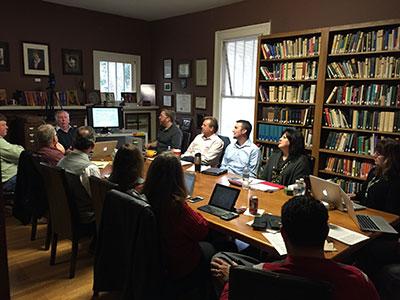 In summer 2009 the CPCS hosted an international conference on the Bangor University campus devoted to 'Pentecostal Ecclesiology'. Diverse in terms of gender, race, nationality, denominational affiliation, and academic discipline the assembled scholars explored the construction of a Pentecostal Ecclesiology around the theological themes of the redeemed community, the holy community, the empowered community, the therapeutic community, and the eschatological community. The results of the work of these scholars from six different continents was the publication of the conference papers in J.C. Thomas (ed.), Toward A Pentecostal Ecclesiology: The Church and the Fivefold Gospel (Cleveland, TN: CPT Press, 2010), a work that has been adopted as a textbook at many institutions around the world. Shortly after this conference Dr Kay would depart Bangor for a Professorship at Glyndwr University and Professor Thomas would be asked to become the Director of the CPCS. In 2013 Professor Frank D. Macchia joined the CPCS as Associate Director.
The leadership of CPCS continued to prove agile as political and institutional priorities changed over the years. As formal partnerships were phased out, the collaborative spirit of the Centre continued, albeit in a different form. Currently, much of the Centre's work is carried out in cooperation with the Centre for Pentecostal Theology – a research centre housed on the campus of the Pentecostal Theological Seminary in Cleveland, TN – with supervisors drawn from a number of education institutions, including Professors Robby Waddell and Chris E.W. Green.