Gracious M. Ali from Malawi was awarded the Commonwealth Scholarship and began studying for an MSc in Public Health and Health Promotion in 2017
"I was offered ad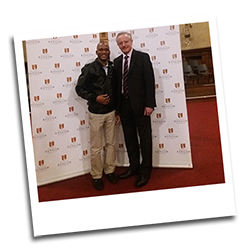 mission into a total of four programmes at three universities, two in the UK and one in Ireland, out of which I settled for the MSc. in Public Health and Health Promotion at Bangor University.
My only hopes for funding were the Commonwealth Shared Scholarship and the Chevening Partnership Scholarship, both prestigious UK government scholarships for overseas students. I applied and was fortunately shortlisted for both schemes, and was eventually awarded the Commonwealth Scholarship.
I enrolled at Bangor University in September 2017 and truth be told, my world has changed tremendously during the few months I have been at Bangor so far. The teaching and research at the university are of high quality, the people are friendly, and the physical environment is quiet and pleasant. I have no regrets on choosing Bangor University!
Although I do not yet consider myself successful, I am confident that I am a better version today of what I was yesterday. I am certain that I was meant to be and belong in this field, and that I am on the right path to success."
Below are just some of our £5K Scholarship award winners…
Katherine (Katie) Hoemann is 31 and from the US, she is studying for an MA in Cognitive Linguistics.

"I found my way to Bangor through high recommendations for the faculty and coursework in my area of study. Those recommendations have not let me down! Of course, the beautiful mountains and scenery, and the chance to learn a fascinating language, certainly haven't hurt, either.
The scholarship award helped me realize this incredible opportunity; I am honored to represent the International Education Centre and the university in my work, and hope to express my gratitude in the quality of my work."
 
Yuchen Yan is 22 and from China, she is studying for an MBA in Information Management.

"One of the most important reasons for me to choose to study in Bangor University is the fact that I was awarded a £5K scholarship from the International Education Centre.  It is not only a high appreciation of the previous achievements of my bachelor degree, but also a big support in following my postgraduate studies. The stunning scenery of Bangor which is surrounded by the beautiful mountains and sea attracted me a lot, the joyful experience of studying in such a pleasing atmosphere is another reason why I chose to study in Bangor University.
 I chose the course, Information Management because I had studied Information Management and Information Systems for the last four years of my bachelor degree.
It was an unbelievable feeling and I was very grateful when I realised I had been awarded the £5K scholarship. I appreciate this very much and want to thank Bangor University for giving me such a high honour, I will cherish every moment I study and live here."
Margaret Leigh Sheble is 22 and from the USA, she is studying for an MA in Arthurian Literature.

"I chose Bangor University because I had visited the campus over the summer when I was still in high school and when I learned this was the only school with a program in Arthurian studies I just had to go! 
Another reason I chose Bangor University was because of its renowned international scholarship. Based on my hard work at my undergraduate institution I was selected to gain the 5K scholarship, helping me pay for my tuition and insuring that the cost of my education could in fact be more manageable. 
The beautiful location certainly didn't hurt either."