The Home Office immigration policy is full of jargon and terminology.
GLOSSARY
Academic Progression
The UKVI requires that each course you do must be at a higher academic level than the previous course you completed in the UK;  or, the new course must be related to and complement your previous course at the same level. Exceptions apply, for example if you need to re-sit, or if you are transferring to a different institution to continue on an existing course. You will need to apply from outside the UK if you need longer to complete the same course, e.g. you suspended your studies for medical reasons or have had an extension finish your Master's dissertation. PhD students who were given an extension can currently apply to extend their visas from inside the UK.
Administrative Review
This process has replaced appeals. If your student visa application is refused, and you think that the UKVI have made a mistake, you may have a legal right to ask UKVI's to review their decision within 14 days of receiving the notice/visa. You will be told in your application refusal letter if you can ask for the decision on your visa application to be reviewed. This is known as an 'administrative review'.
Biometric Residence Permit
This the name given to the ID card visa that you are given after you have successfully applied to extend your UK leave to remain.  See picture.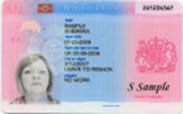 BRP See 'Biometric Residence Permit'.
Dependant
Someone who depends on you financially, such as a husband, wife, partner, or child.
Entry Clearance
This is permission to enter the UK.  It is the name of the visa that you are given at the start of any period of time in the UK.  It is usually a yellow sticker in your passport. See picture.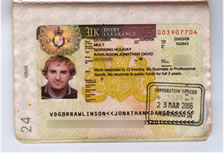 Financial Sponsorship
Financial sponsorship is where a student is given money to cover some or all his/her course fees and/or living costs. This financial sponsorship can be used as evidence of money you have.
A  student can receive official financial sponsor from Her Majesty's Government, the student's home government, the British Council or any international organisation, international company, university or an Independent School.
If the student's financial sponsor is only covering some of his/her course fees or living costs, he/she must show that he/she has the rest of the money needed.
Government Sponsor: See Financial Sponsorship
Leave to remain
'Leave to remain' is permission to stay in the UK.   Either, temporarily  - 'limited leave to remain';  or, permanently - 'indefinite leave to remain'. 
Points-based system
The UKVI name for their "immigration system for managing applications by people who wish to come to the United Kingdom to work, train or study".
Applicants are given a certain number of points for different aspects of their applications, for example a successful student visa application would be given 70 points.
Right of Appeal: See 'Appeal'
Sponsor: See 'Sponsor' or 'Financial Sponsor'
Sponsor
This is the institution that has offered you a place.  For most students reading this page, Bangor University!  
(Our Sponsor Licence Number can be found on your CAS letter).
UKVI (formerly known as the UKBA)
The UK Visa and Immigration Service is the section of the Home Office that is responsible for visas and immigration. 
The Home Office is the lead UK government department for immigration and passports, drugs policy, crime, counter-terrorism, police and equality. 
UKVIS is not to be confused with the UK Border Force, who are responsible for securing the UK's borders.
UKCISA
The UK Council for International Student Affairs is an independent organisation which promotes and protects the needs of international students in the UK.  They are very useful organisation, and if you have not looked at the UKCISA website, you should!  They also have a student advice line and an online forum for students to ask questions about any aspect of living in the UK.
The UKVI provide a more detailed Glossary of Immigration Terms