Mari explained, "History is at the core of the Welsh team's identity at this World Cup. 1958 has been continuously referenced by fans, the players and the media, and the nostalgia for that year - the only World Cup of the 20th century that had a Wales team in the finals - has become comparable to the 'Spirit of '66' in English football.
"Along with this, the Football Association Wales in its social media and marketing is suffused with the modern Welsh past. The official World Cup song for Wales is, Dafydd Iwan's 1983 anthem, 'Yma o Hyd' (Still Here) with all its resonances of the Welsh Language Society's protests and action. However, even more captivatingly, the music video for the song includes a range of images referencing historical 'oppressions' and icons in Wales, from visions of Tryweryn to the Miners' Strike and Aneurin Bevan. This video strongly embedded Welsh football at the heart of a Welsh nationalist identity, which is a dramatic turnaround from 1958, when the press in Wales, especially the Welsh language newspapers, took miniscule interest in the presence of the national team in Sweden."
From a sociological perspective, Rhian explained, "As sociologists we often try to make sense of society and the social world in which we belong. Studying team sports such as football provide a microcosm of our society and allows us to gain insight into key collective norms and values of society.
"The Wales football team's success at reaching the World Cup of 2022 highlights key sociological concepts of language, nationhood, national identity and nationalism. I teach a module, The Sociology of Music, where we explore the importance of sport as a national identity marker in Wales. We study the importance of the crowd in football games becoming the 12th person on the pitch and providing a sporting advantage. Y Wal Goch (The Red Wall) of Wales is a perfect example of how important fans can be by inspiring their team to victory and uniting a nation through football ... bucket hats and all."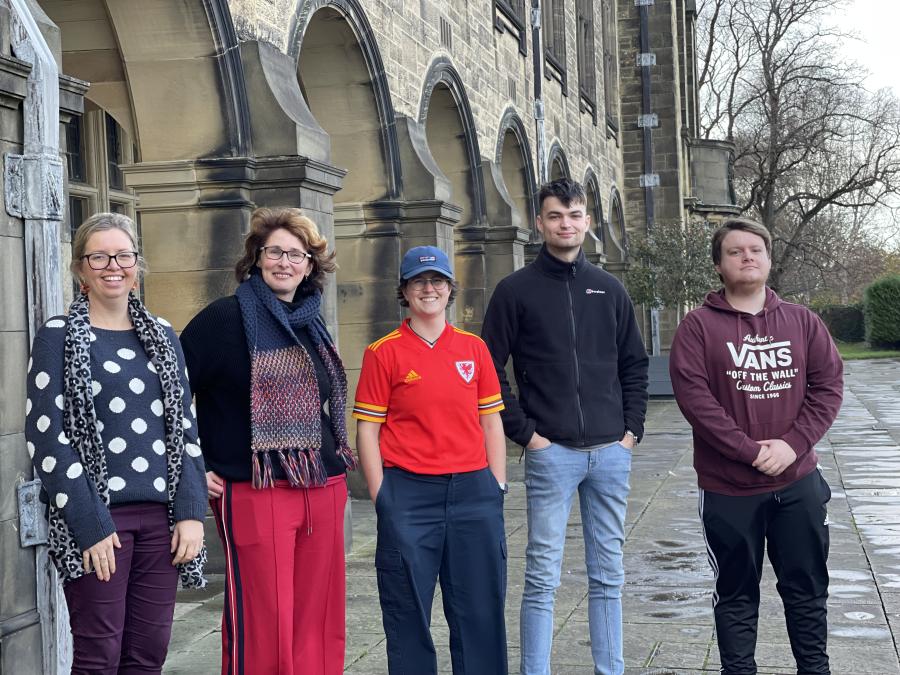 Mari's 'Special Subject Nationalism in the UK' module this time had a new class on 'the spirit of 1958 and 1966: football and national identity', and her third-year students were really immersed in how the position of football as a national sport in Wales has escalated over recent decades.
Beth Jones, History with Film Studies student from Benllech, said, "I think it's great that Wales is participating in the World Cup and as they play against England, it will highlight that Wales is a different nation and its own country. The World Cup has also opened discussions about a wide variety of subjects including LGBTQ+ rights, demonstrating that there's more to the tournament than football."
Jac Jones, Politics student from Waunfawr, said: "The module has been an eye-opener in learning about, and understanding identity. I now realise how even the most insignificant things around us make you think about identity. For example, the red and yellow bucket hats have become swiftly synonymous with Wales since they were adopted by Welsh football fans."
Kieran Havelock, History student from Porthmadog, said, "The module discusses how we are subjected to national expression on a daily basis without us even realising it. I've learned about how what we hear in the news and the vocabulary used can have a nationalist undertone and it's interesting to see how prevalent it is in society.
"Often on the world stage, particularly in politics, Britain is seen as a single nation, a single entity. Because of this I feel that many people are simply unaware of our (Wales) existence, or at the least see us merely as an English region. I think this World Cup is a great opportunity for us to use our strong sense of national identity to show the world who we truly are."
Such was the interest in the module, Mari is now planning to integrate more Welsh football history into teaching, and is working with the University's Archives and Special Collections team to utilise their collection of ephemera in the Bangor Football archive.