Bangor primatologists to live-tweet flagship BBC series "Primates"
Bangor University's primatologists eagerly await the launch of a landmark series by the BBC, which they will live-tweet from their homes during the ongoing lockdown.
The new wildlife programmes have been filmed over 2 years by the BBC Natural History Unit and aim to cast a fresh light on the lives of our closest living relatives from around the world, as well as on the conservation challenges they face.
To celebrate this new series and share their passion for primates, three primatologists from the School of Natural Sciences will be live-tweeting the series as it goes out on BBC One over the next three weeks.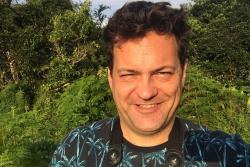 Speaking ahead of the ground-breaking BBC series, Bangor University primatologist and co-director of the University's new undergraduate course in Zoology with Primatology, Dr Alexander Georgiev, said:

"It's brilliant that the BBC has made this new series; it will hopefully highlight just how intelligent, socially complex, and adaptable primates are and will no doubt provide some good reference points for my lectures in the next academic year!"
"The BBC have certainly set the bar very high with recent primate-related material in series such as Seven Worlds, One Planet so I am really looking forward to see how they will push the boundaries with their coverage of new science this time" lecturer and researcher Dr Georgiev added.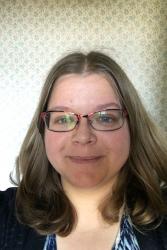 Dr Izzy Winder, who co-runs the Zoology with Primatology course, echoed these thoughts: "It will be great if the BBC series shows how intertwined the lives of many monkeys and apes have become with humans".
"What we do, and how we look after our natural habitats, will determine the future of our primate relatives as well as our own species," Dr Winder said.
"Along with many, I'll be glued to my TV watching the first program this Sunday," Dr Winder, who studies primate evolution, anatomy and ecology, added.
Zoe Melvin is a PhD student at Bangor University and will also join the live-tweeting event. She has just returned from her field work in Zanzibar where she studies the effects of habitat disturbance and people on the reproduction of the endangered Zanzibar red colobus monkeys. As many other researchers she had to suspend her work because of the COVID-19 pandemic and is now back in the UK awaiting to find out when she will be able to return to the field:
"While I'm disappointed to have suspended my fieldwork for the time being, it is necessary to prevent the transmission of COVID-19 to the colobus. Monkeys and apes are likely to be as susceptible to COVID-19 as humans and there are only fewer than 6000 Zanzibar red colobus left. If this virus spreads to the colobus it could have devastating effects for the small remaining populations."
Z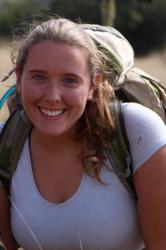 oe Melvin is very excited about the new BBC series: 'I'm looking forward to seeing some monkeys, something that I've been missing for the last month since I returned to the UK. I am particularly intrigued to see how this new series handles the issue of primate conservation given that almost two thirds of primate species are threatened with extinction.'
"Tweeting about the series during broadcasts and in the days in-between the three episodes over the next weeks will be a great opportunity to engage with wildlife enthusiasts and aspiring primatologists!", Zoe Melvin added.
You can follow the commentary from Bangor's primatologists as they live-tweet their thoughts on the science and film-making behind the programmes on Twitter: @BangorPrimates. 
Primates starts on Sunday 26th April at 20:15 on BBC One.
If you'd like to know more about the Zoology with Primatology degree at Bangor University, the only undergraduate degree with a specialist focus on primates in the UK, please visit www.bangor.ac.uk/courses/undergraduate/C333-Zoology-with-Primatology.
Bangor University's primatologists:
Dr Alexander Georgiev (@alexvgeorgiev) 
Alex is a Lecturer in Primatology who studies the behavioural ecology, physiology and conservation of primates. He has conducted field research with chimpanzees, bonobos, and rhesus macaques and is now directing the Zanzibar Red Colobus Project. His current work on this endangered and endemic primate focuses on understanding the physiological costs of anthropogenic change and the implications these costs may have for the survival of the species.
Dr Izzy Winder (@IsabelleWinder) 
Izzy is a Lecturer in Zoology who works on primate evolution, anatomy and ecology. She is particularly interested in how primates (including humans) came to be the way they are and how monkeys and apes will respond to human-induced climate change. If she had to pick a favourite primate it would probably be a baboon.
Zoe Melvin (@Zoe_Melvin) 
Zoe is a PhD student at Bangor University where she studies the effects of human disturbance on the physiology and reproduction of the endemic and endangered Zanzibar red colobus monkey. She hopes that this information will be useful in creating conservation plans for the species. She has conducted behavioural research on primates in South Africa, Nigeria, Mozambique and Tanzania and is interested in answering questions to provide practical solutions to conservation.