Rower scoops international scholarship and University Award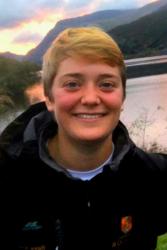 Bass Andre who has received Bangor University's Llew Rees Memorial AwardA Bangor University student who has won a globally competed Rowing Scholarship to study in the USA is also to be awarded the University's main sporting Awards.  
Bass Andre, a third-year geography student from Sandown on the Isle of Wight is to study a Masters degree in Anthropology at Tulsa University in the USA, with a full Rowing Scholarship. Bass will also be assisted by the Llewelyn Rees Memorial Prize from Bangor University.  
A keen rower, competing mostly in a quad, Bass has been Club Captain of Rowing at Bangor University this year, and individual and team successes have helped to put the Club on a sure footing for the future, having brought the Club to the attention of Welsh Rowing, and securing more coaching guidance for the student-coaching led Club.  
   
Bass began rowing when they were 16, joining Shanklin Sandown Rowing Club on the Isle of Wight.   
   

Bass's ambition for the next two years includes getting selected for the fastest boat team at Tulsa and to improve sufficiently to be eligible to qualify for GB Senior trials once the Masters degree at Tulsa is completed.   
   
The Llewelyn Rees Memorial Award of £750 commemorates the University's Director of Physical Recreation between 1961-72. It is awarded to the student who has made the greatest contribution to raising the profile of Bangor University sport by their achievement at a national or international level.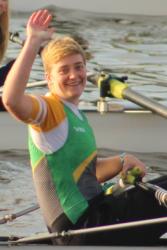 Bass chose to study at Bangor because they felt the location was perfect for their Geography degree, being so close to both the coast and Snowdonia National Park. Bass also wanted to be part of a smaller, close-knit society rather than a huge university, so Bangor was the ideal choice for them. Obviously, they made sure the university had a rowing team as well- they weren't going to apply anywhere that didn't have one!  
Bass said: "I've enjoyed studying and rowing at Bangor immensely- the experiences I've had and the people I've met have shaped my university and future life. Being a member of the rowing team has made me push myself both physically and mentally, and I'd never have been able to do it without the support of everyone in the club. Every session was a team effort, and I enjoyed them all- even the 5am winter sessions at the lake! My best memories have been made with the rowing club, and I will miss everyone very much when I leave this year.  
They add: "I feel incredibly honoured to have received the Llewelyn Rees Memorial Award. It's an amazing feeling to know that my efforts within the rowing club have helped raise the profile of Bangor, and I am glad to have been able to give back to the university in this way. I will proudly wear my Bangor kit when I train out in the USA! The money from this award will pay for my flights to Tulsa this August which will be a great help to me."