First group of graduates from fast track 2Yr PGDip Nursing join Welsh nursing workforce
The first cohort of Postgraduate pre-registration nursing students from the School of Health Sciences at Bangor University have graduated and registered with the Nursing and Midwifery Council as adult nurses.
These students started the two-year Postgraduate Diploma in Adult Nursing after completing their first degree in a health or related subject and passing a value-based interview to demonstrate their care experience and qualities for a career in nursing. We're proud that they are now all either employed in adult nursing specialties in Wales with or continuing studies to qualify and register with the NMC as a health visitor.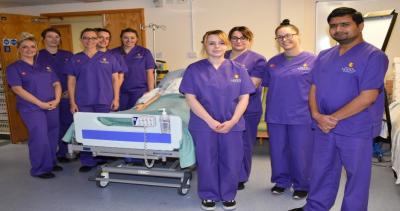 Cohort 1 2018 – The first PGDip Adult Nursing Students to graduate from Bangor University.
Dr Lynne Williams, Head of School welcomed the students success saying " It is wonderful to see the success of the School of Health Sciences' first cohort of PGDip student nurses. Many thanks to the programme lead, Dr Elizabeth Mason and the team who have supported the students throughout this novel programme. I wish all the students well in their future careers."
Jessica Poulton, one of the recent graduates said "Deciding to study on the Postgraduate Diploma Adult Nursing was the best decision I have made. The course provided lectures, practical sessions and practice placement hours, all have enabled me to develop the skills and knowledge to begin my journey as a registered nurse.  It has been a tough yet, incredible journey. Now that I'm in my blues, working as a community staff nurse on the Llŷn peninsula, I can honestly say it was worth it. Bangor it's been a blast! Diolch yn fawr."
Another graduate, Sophie Cassidy, is now a community staff nurse said "Studying the Postgraduate Diploma in Adult Nursing has been a great learning experience and I glad to have been part of the first course at Bangor University.  The course taught me a lot about myself as a person and has enabled me to gain many skills in order to be a registered nurse. I love my job, learning something new each day."
Reflecting on what had been an emotional but rewarding journey Kimberley Riley added "Having already completed a three-year degree the decision to undertake another course as a mature student took much consideration. The course structure and flexibility with ongoing support by committed lecturers has allowed me to fulfill my aspiration to register as a competent newly qualified nurse. Despite many personal challenges and course demands two years later I am a registered nurse working in Dolgellau community hospital and can honestly say it's all be worth it." 
The successful students have followed many varied paths before starting the course. Some had healthcare experience for example; home carers, healthcare assistants. Successful graduate Beth Roberts came from a teaching background but said "I found that the caring experience gained as a qualified teacher provided many transferable skills (although not practical) which could be applied to my new career along with the intensive two week observation placement which provided myself with the basic nursing skills. I am now a qualified adult nurse and there is no better feeling than putting those blues on for the first time! Although I am starting my career at a very challenging time (COVID19), I feel equipped to deal with future challenges."
With another cohort graduating in September 2020, the School is currently awaiting validation for a new programme to meet the new Nursing and Midwifery Council Standards 2018 and, subject to approval, will be providing an MSc in Adult and Mental Health Nursing. If you are interested in Nursing then visit the School website to find out more.