A new research centre to study the growing problem of plastic waste
A new research Centre has been established at Bangor University to study the growing problem of plastic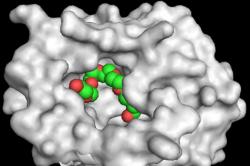 The resolved structure of an enzyme from a marine plastic degrading bacteria.waste. The Plastic Research Centre of Wales (PRC Wales) is the first of its kind in the country and brings together a wide variety of academics, students, organisations and industries.
Bangor University's Pro-Vice Chancellor for Research and Impact, Prof David Thomas, brought together the group after realising many scientists in the university were already researching various aspects of plastic waste.
"We felt it was time to add our considerable academic weight to the fight against plastic pollution," said Prof Thomas.
"We've brought together a great group of researchers from all across Bangor University, but the PRC Wales isn't just about research; everyone involved in the centre is passionate about tackling what David Attenborough describes as an "unfolding catastrophe".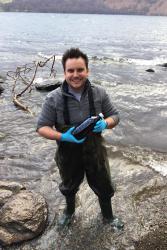 Dr Christian Dunn collecting fresh water to test for the presence of microplastics."We want PRC Wales to be a true hub of knowledge for anyone, from our current and prospective students, to members of the public, businesses and policy makers."
"We encourage anyone that's interested in this subject to get in-touch with us," Prof Thomas added.

Projects taking place at the university include work by Prof Golyshin and others in the Centre for Environmental Biotechnology (CEB) looking at how microbes are attaching themselves to plastics.
Research by the Bangor Wetlands Group, led by Dr Christian Dunn - with support from Friends of the Earth, Surfers Against Sewage and Laura Sanderson from We Swim Wild - is looking at the presence of microplastics in UK inland waters and National Parks, alongside developing wetland ecosystems to remove plastic particles from our waterways.
Bangor' University's BioComposites Centre are contributing through their work investigating alternatives to plastic packaging including most recently, working with willow.
World-leading scientists such as Prof Davey Jones, Dr Adam Charlton, Prof Simon Neill and Dr Peter Robins will be continuing their pioneering work mapping the movement of microplastics in soils, rivers and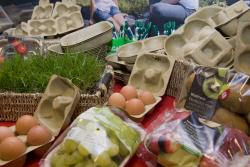 Packaging made of ryegrass waste developed by the BioComposites Centre and used by a major supermarket.coastal waters, looking into the effects plastic has on organisms and habitats and creating uses for waste plastic.