Sudanese-born Scottish wildlife cameraman, photographer, TV presenter, and conservationist Hamza Yassin made his name in the highly-competitive film-making industry. His dedication and skill at capturing incredible footage of Scottish and Welsh wildlife helped him make his mark as a wildlife cameraman. But his talent in front of the camera was also quickly recognized- and to a generation of young children, he is CBEEBIES' Ranger Hamza!

Let's Go for a Walk with Ranger Hamza, a delightful and hugely popular children's programme, ran for four series and has produced a spin-off series - Ranger Hamza's Eco-quest that will air this autumn- and a book.

Hamza received an Honorary Master of Science degree to the degree in Zoology with Conservation which he gained from Bangor in 2011 and a further master's degree in Biological Photography and Imaging.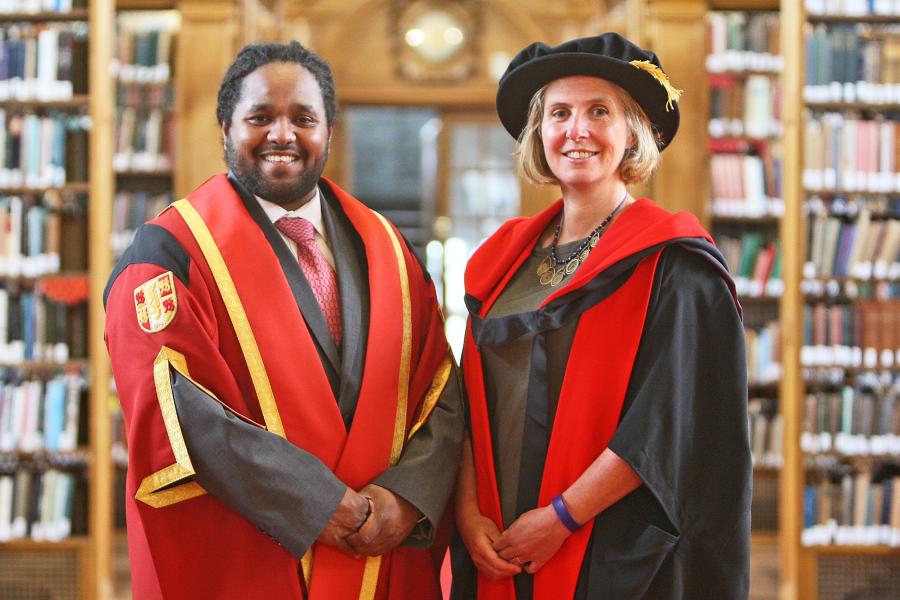 Professor Julia Jones, who presented Hamza for his Honorary degree said:

"At Bangor University we are proud of all our graduates. There is little that makes us happier than coming across the varied and fascinating things our alumni go onto do, whether directly related to their degrees or not. It has certainly been difficult to miss Hamza's blossoming career. He is so often on our television screens, or appearing on the pages of BBC Wildlife magazine.

"Hamza is a passionate, and highly knowledgeable wildlife filmmaker with a wonderfully warm and accessible presenting style that has seen him make a real impact already. 
"We're also so grateful for Hamza's input to his alma mater. He has been returning to Bangor to guest lecture students studying conservation practice. Students emerge inspired by his stories of the hard work needed to make luck happen." 

Renowned for its world-leading conservation and ecology research and teaching, Hamza chose to study at Bangor University and quickly fell in love with the friendliness of the city. He is dyslexic and pays tribute to the University professors, lecturers, the dyslexia support team, and the friends he made here, for having the care and patience to help him succeed. 

Hamza comments, 

"Bangor University ignited my passion for conservation and wildlife and I am so grateful for the support and encouragement I received throughout my studies. My university days were the best days of my life so far and now every wildlife trip I make is enabling me to follow my dream."