Business School sponsors and exhibits at CRCA Conference
Bangor Business School's executive education team have attended two conferences to promote the Financial Crime and Compliance MBA and the Chartered Banker MBA (CBMBA) at the Caribbean Association of Banks conference, and the Caribbean Regional Compliance Association.
The team, working with the Bahamas Institute of Financial Services also attended meetings with several Bahamian banks; financial services firms; professional organisations; ministerial visits and a radio broadcast with Zhivago Laing on his Z-Live show. Zhivago is a former Bahamian Minister of Finance, and a CBMBA graduate.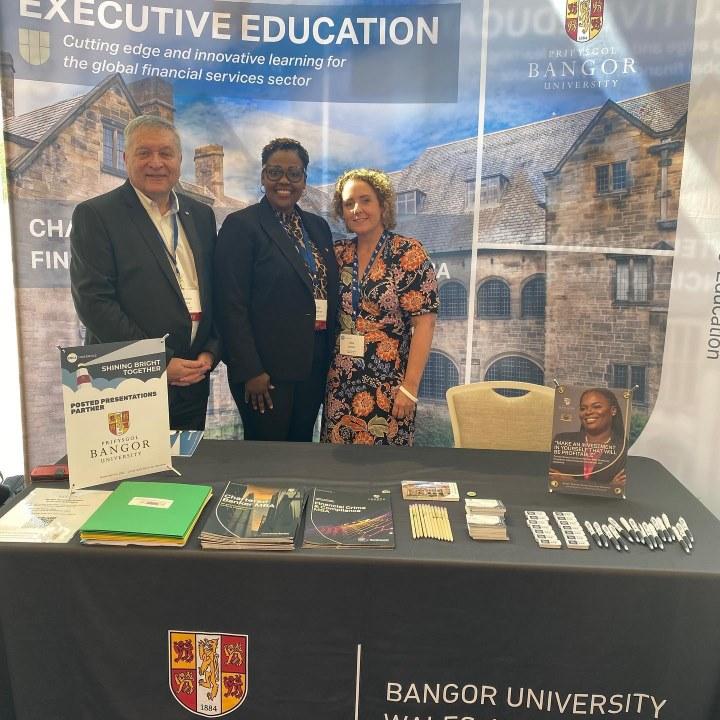 From left: Stephen Jones Academic Director, Dr Tanya McCartney, Chartered Banker MBA Graduate, CEO & Executive Director Bahamas Financial Services Board, and Lisa Jones, programme manager
Stephen Jones, Executive Education Academic Director, explained,
We were delighted to connect with seasoned professionals from compliance, regulatory and anti-money laundering working together to shape the financial services industry in the region and beyond. The Financial Crime and Compliance MBA was well received, and many graduates, students and interested participants attended a sample lecture delivered by the team.