Wales' First Minister visits Bangor and announces North Wales Medical School next steps
First Minister Mark Drakeford visited the University on the 26th January and announced that the Welsh Government will fund up to 140 medical student placements each year at the new North Wales Medical School.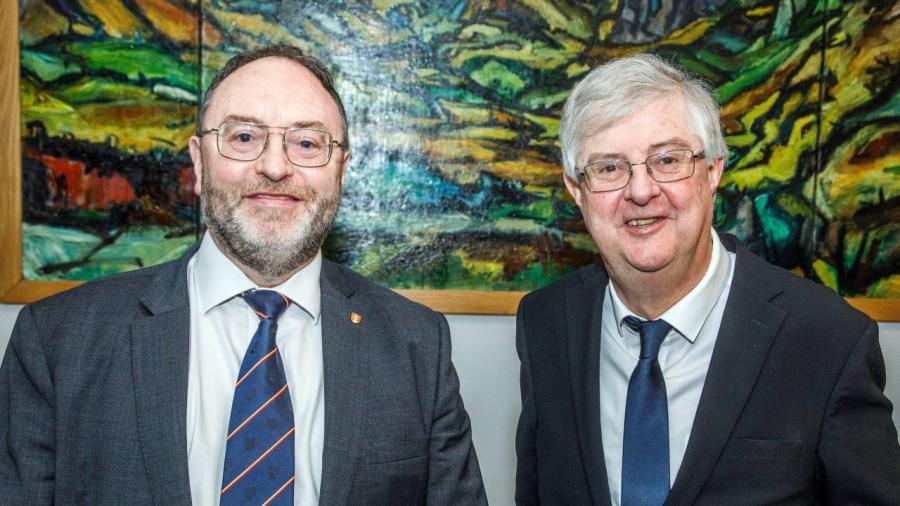 During a meeting with colleagues led by Vice-Chancellor, Professor Edmund Burke and Executive Head of the Inter-Professional Medical and Health Sciences School, Professor Mike Larvin, the First Minister said:
Our new North Wales Medical School will help us train the medical staff we need for the future.

I'm proud so many students will be able to study in North Wales and I hope they stay to work in those communities following their studies. This is good news for the students, the people of North Wales and for Betsi Cadwaladr University Health Board and shows the Welsh Government's commitment to a health service that delivers care as close to people's homes as possible.
The First Minister also met students who are benefiting from state-of-the-art technology to study anatomy. The facility was underpinned by Welsh Government investment and the students were from the first cohort of Cardiff graduates to have received all their education in North Wales.
The North Wales Medical School is a partnership between our University, the Welsh Government, Cardiff University and Betsi Cadwaladr University Health Board. Training will begin in 2024 with student numbers increasing until reaching capacity from 2029. A gradual increase in students will allow time to assess and evaluate the quality of tuition and student experience at the new medical school.
Vice-Chancellor, Professor Edmund Burke, commented:
As a research-led University it has long been our ambition to host a medical school in North Wales. Our partnership with Betsi Cadwaladr Health Board and Cardiff University has enabled us to deliver a full medicine programme and we can now grow that capacity and develop the North Wales Medical School to train doctors in the region and to benefit the regional economy.

The North Wales Medical School will play an important role in the post- pandemic recovery of the region and we look forward to continuing to support the growth of a vibrant health and life sciences sector in North Wales.