3D printing of PPE safety visors
School pupils and teachers of Ysgol Godre'r Berwyn, with support from Creo Medical, make 3D printed safety visors guided by Ilan Davies (a PhD student at the School of Computing and Electronic Engineering working with Creo Medical).  Ilan Davies was a former pupil of Ysgol Godre'r Berwyn and is working at Creo Medical and completing his PhD at Bangor University. Creo Medical was founded in 2003 as MicroOncology Ltd by Professor Chris Hancock, initially to target the treatment of cancers through use of high frequency microwave energy and dynamic matching techniques.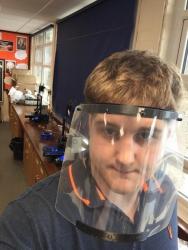 Ilan Davies, Creo Medical and School of Computing and Electronic Engineering, Bangor University.
The company took the 3D printers into the School. Ilan said "it was good to do something that is really practical, and useful, in response to this crisis". He went on to say "the School will be able to keep most of these machines afterwards, and we are keen to collaborate with the School on other projects. We have shared the visors to the Gwynedd Councils' home care staff in the Bala area, pharmacies and surgeries". 
The interest of the pupils is amazing. Cari, a 9-year-old pupil, loves this so much she's in the lab before me now and talks non-stop about this work and the technology to her parents when she gets home and loves coming to school - her parents being critical workers. She has even asked her parents if they will buy her a 3D printer! Another GSCE student participating in the 'production line' was keen to get involved as his parents too are critical workers. After a week of helping he is now considering to follow a higher education course in technologies, which he had not previously considered.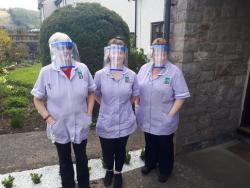 District nurses in Bala wearing the completed visors.