This summer saw the culmination of five years of joint development between Bangor University's BioComposites Centre and Gwynedd-based green technology company Pennotec (Pennog Ltd) in their efforts to use apples to replace unhealthy ingredients such as saturated fats and 'invert' sugars in the foods we all enjoy.
Bangor and Pennotec are collaborating with Flintshire-based The Pudding Compartment, which is the first company in the UK to produce a healthier version of the humble flapjack using functional food ingredients prepared from apples. The 'All-Natural Apple Flapjack', one of the first products to be developed as part of this collaboration between Bangor University and industry partners, caused quite a stir at The Royal Welsh Show, the Urdd Eisteddfod and the National Eisteddfod this summer.
"These new apple ingredients developed as part of this R&D project with Bangor University and Pennotec have been a revelation!", says The Pudding Compartment owner and MD, Steve West. "For the first time we've been able to replace palm oil and invert sugar syrup in our recipes with much healthier alternatives. And the bonus is our products now have a delicious apple flavour that consumers really seem to enjoy."
This summer, 2,400 visitors to The Royal Welsh Show and the Urdd Eisteddfod and National Eisteddfod – including opera star Bryn Terfel - participated in blind tastings organised by Bangor University with the All-Natural Apple Flapjack coming out on top!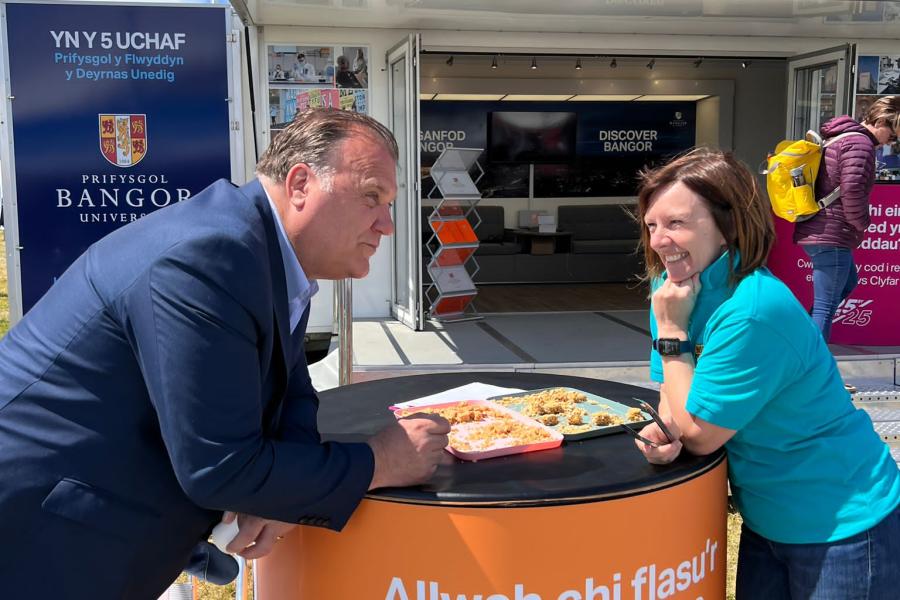 "Earlier this year we'd conducted consumer tasting trials with reduced calorie versions of our flapjacks, chocolate brownies, Welsh cakes and biscuits and we were surprised and delighted to find that not only did consumers prefer the healthier apple ingredient versions, they also loved the tangy, sweet apple flavour," explains Steve. "So for the big events of the Welsh summer, we wanted to conduct a truly blind trial – we added apple flavour to our standard flapjack recipe. And what do you know? The reduced calories versions came out on top again – almost 1,300 preferred the All-Natural Apple Flapjack".
So what is the secret? 
Bangor University's lead Dr Adam Charlton tells us, "By mechanically breaking up healthy dietary fibre in apple pomace-the solid left after extracting the juice, we are able to produce an ingredient that binds up to 20 times its weight in water. This dietary fibre 'sponge' we've created, is tasteless but has the same mouthfeel as fat and the same thickness as starch and so can be used to replace these kinds of ingredients in a whole range of foods, with practically zero calories."
But what about the apple flavour? 
Dr Jonathan Hughes of Pennotec explains, "With the support from the Welsh Government's Decarbonisation and Covid Recovery programme, we began to look at reducing the carbon footprint of our manufacturing processes. We realised that to produce the fat-replacing fibre from apple pomace – pressings comprising apple pulp and peel - we had to wash away a lot of really healthy fruit sugars and flavours. We spent a year investigating ways to recover and convert pomace sugars, complex carbohydrates, vitamins and anti-oxidants into a new 'fruit syrup' replacement for invert syrups used by everyone in the food industry. Not only are we saving money by reducing waste, we've also created a new, delicious and healthy fruit syrup!
"Reformulating recipes to replace 'dry' ingredients margarine, vegetable oils, caster sugar and golden syrup with water-based apple ingredients has been enormously challenging. However, The Pudding Compartment worked tirelessly, testing recipes and balancing the fat, sugar, salt and fibre content to hit the 'sweet spot' of the best possible nutritional profile and the best possible taste and texture. And the proof is in the pudding as almost 1,500 happy consumers will attest.
"This summer we've proven that there is genuine consumer demand for healthier bakes and consumers genuinely love the apple flavour," says Steve.
"Our healthy apple syrup is currently more expensive than mass golden syrup and we are investigating how to make it cheaper as we for look investment to scale-up manufacture' said Dr Hughes. But in market testing, consumers expressed a willingness to pay up to 40% more for healthier versions of baked goods that companies like The Pudding Compartment produces. Especially once they were informed of how healthy the apple ingredients were and how environmentally friendly our sourcing and production methods were."
This has very much been a North Wales team effort, working with commercial partners in food technology and production and other Bangor University researchers in Psychology and Geography, to develop tasting trials and understand how the 'green' credentials of  apple ingredients could influence consumers and food service outlets to buy the product.
We're trying to help with important societal challenges, including the high levels of obesity in Wales and the need to improve the  health and wellbeing of present and future generations, as identified by the Welsh Government. We've also  developed an innovative approach to sustainable manufacturing by adding economic value to apple pomace.
It's important that health innovations like these, which can really help Wales and the UK overcome the obesity crisis and recover from Covid, go beyond the laboratory. That is why working with Welsh food innovators like The Pudding Compartment has been so important.
The three organisations are now committed to continue working together to scale-up manufacture and bring this amazing food innovation to market within the next two years. They're going to need a lot of apples!
If you'd like to learn more about this project, contact The Biocomposites Centre