Bangor students win Cân i Gymru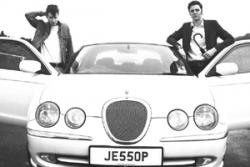 Two friends who are in the same Band and who both study at Bangor University won the Cân i Gymru (Song for Wales) competition with a song composed during a car journey on their way home from uni.
Rhys Gwynfor and Osian Huw Williams took part in the popular annual Welsh television programme and can now represent Wales in the Inter Celtic Festival in Ireland,. they also won £3,500. the song was performed by themselves with the other members of Jessop a'r Sgweiri.
Rhys is 22 and studying for an MA in Creative Writing at the University's School of Welsh while Osian, also 22, is in his second year of a Music degree.
Both have been friends since their schooldays at Ysgol Uwchradd Y Berwyn in Y Bala. (Rhys is from Glanyrafon, near Corwen, and Osian from Lanuwchllyn near Y Bala). Their band, Jessop a'r Sgweiri was formed with three other friends last summer. Rhys is the main vocalist, while Osian divides his musical talents between this band and Candelas, Siddi and Cowbois Rhos Botwnnog.
They have recorded their Cân i Gymru song themselves. Follow the links to the Cân I Gymru website to listen to the track.
The winning song was mainly written during a car journey home from University one Wednesday afternoon. The song, 'Mynd i Gorwen efo Alys' (Going to Corwen with Alys) is a traditional '12 bar blues' and as Rhys explains;
"We both had a clear idea about how the song should sound, but as Osian is the musician, I guess he's mainly responsible for the music, while we both contributed to the words."
Osian explains: "As the song is a '12 bar blues', the style and chords have been played for many years. Our intention was to take an old style and give it a heavier more contemporary feel, but in the end, we're an old fashioned rock 'n' roll band!"
Both intend to work together in the future, writing more songs for Jessop a'r Sgweiri. At the moment, other than the competition and the band, their focus is on successfully completing their University courses.
Rhys Gwynfor chose to study at Bangor as the School of Welsh is highly regarded and it provided him with the opportunity to study something that really interests him.
Osian Williams said: "The School of Music offers a great choice of modules and Bangor is a small city with a great social scene."
Professor Gerwyn Wiliams from the School of Welsh said: " I'm delighted at the success of Rhys Gwynfor and Osian Huw Williams! It's great to see a Creative Writing MA student from the School of Welsh channelling his energies into such an important national Competition such as this. It's also great to see the cooperation with Osian Huw Williams, at the School of Music."
Publication date: 28 February 2013