"I knew Bangor was the place for me and I was not going anywhere else!"
"When I first started looking into Universities my mind was set on what I wanted to study. I wanted to do Medieval History and as little modern history as possible. This narrowed the Universities available to me all the way down to two. One of which was Cambridge which didn't really seem like my "paned o de", so my parents insisted I looked at other universities too. But none of them seemed so much like home as Bangor did. I remember the (terrifying) drive across the mountains from Shropshire, I was learning to drive and my mum insisted I "get the practice". The whole way I was on edge, but when we finally surfaced into Bangor I just felt this huge sense of relief and excitement. I knew Bangor was the place for me and I was not going anywhere else!
Next thing I knew I was packing up my stuff and making the massive move to Wales! (I always knew I wanted to study in a different country). I found myself moving into what I can only assume are the best halls of residence in the UK. I was placed in Bryn Dinas, I think it's changed name now, but at the time it was the tallest building on Ffriddoedd site. I was on the top floor with a view out to the pier from my bedroom and a panoramic view of Snowdonia from the kitchen. I have never lived anywhere so beautiful. I was incredibly lucky and became really close to all the people on my floor. We ended up living together throughout university and only I stopped living with some of them 2 years ago - because of the old getting married thing. We're still all so close and I can only thank Bangor University for giving us the opportunity to meet!
It was at Bangor that I discovered what I really wanted to be (when I grow up). When I was at Bangor, society life was incredible, possibly because it's so far from anywhere big and there were all of 3 nightclubs. I made the absolute most of the societies, joining dance soc, re-enactment soc, Japanese soc and Bangor English Dramatic soc (BEDs). BEDs was probably my favourite of the societies and the one I stuck with throughout. Being involved in the productions and putting on a full schedule of plays was a massive learning curve but also incredible experience. In second year, I was lucky enough to take a play with BEDs to the Edinburgh Fringe Festival. Performing every day for a month was absolutely exhausting but I couldn't have been happier and I came to the realisation that I could make a career for myself doing what I loved if I worked super hard.
So at the end of third year I left Bangor heart broken at leaving so many of my friends behind, but excited for what was to come next. I ended up going to East 15 Acting School to get a Masters and was lucky enough to come out with an agent too! That was when the hard work really began. I started my own theatre company in London where I really got to grips with writing, directing and collaborating. I was also involved with a podcast called Definitely Human who do incredible sci-fi audio dramas, and that's where my love of voice acting really began.
So here I am now almost a decade later and finally things are starting to pay off. I am just releasing my first Audio Drama for the BBC about Climate Change and I really don't think I'd have been able to pull this off without my time at Bangor. Living in Bangor, in the midst of Snowdonia opened my eyes to the environment and our impact on it. Having friends on the conservation and ocean science courses helped me to learn so much and they were super helpful when researching for my latest project. The audio drama is called 5 Years From Now and focusses on the issues of climate change and plastic pollution. It aims to show a glimpse of humanity's possible future if more is not done to slow our impact on the planet. It follows the stories of 12 scientists at the end of the world as they struggle to save the planet and the human race.
I miss living in Bangor so much and it will always be my second home. I've taken so many people to visit our old haunts over the years and still have plenty of friends who stayed in the area. I can't wait to come back again, you can't get rid of me that easily!
If you fancy finding out more or want to get in touch, here are a couple of useful links and bits!"
5 Years From Now - Radio Play
https://www.amelieedwards.com/audio
Insta: @amelieeedwards / Twitter @AmelieEdwards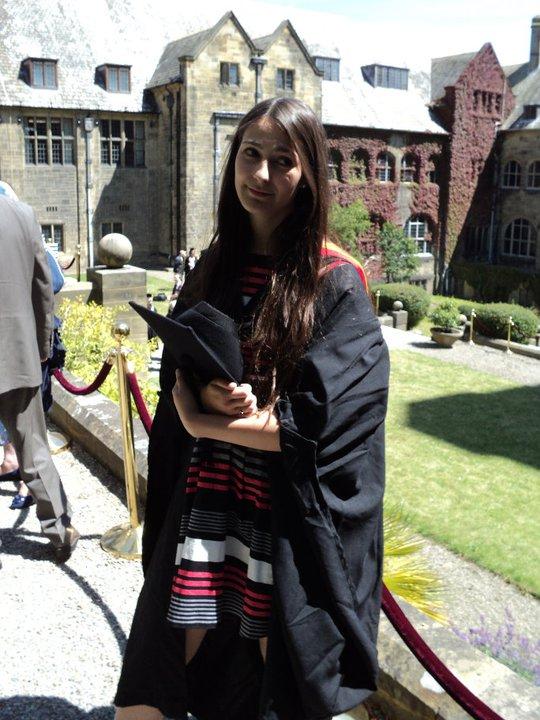 It looks like you're visiting from outside the UK, would you like to be redirected to the international page?