"I am ever grateful to the University and the City for allowing that special experience and filling my head with knowledge that I use to this day"
"I started my degree in Botany with Marine Botany in Bangor in 1975.   I was very much ruled by my heart in choice of subject.  Initially I was inspired by Monty Python's Lumberjack song and applied for Forestry and Wood Science.    But had to add 4 more options to my UCCA form, and since I had the Bangor prospectus to hand I also applied for the Botany with Marine Botany course (and if you need further illustration of my heart ruling my head my fifth choice was Brewing at Edinburgh).   Always keen on biology I tended towards plants – I think the school dogfish dissection drove that decision (and also drove my life-long vegetarianism).    So, by the time I got my good enough A-level grades (and influenced by a pairing of boyhood heroes – David Bellamy and Jacques Cousteau) I opted for the Botany with Marine Botany course.  I never regretted that switch.
I knew from day one that I had made the right choice of University despite never having been to North Wales.  My parents drove me from County Durham, and we had a quick trip to Bangor City to take a look at the Plant Biology Department.    We didn't go in but had a nice chat to the guy who was cleaning the big glass front door.   A very dapper, bow-tied man exited the building as we were there and very politely stopped to chat with me and my parents and greeted the cleaner warmly and used his name (that stuck).  I later learned that was Prof. Harper who was to quickly become another of my heroes.  My folks then drove me to my assigned digs in the village of Tregarth.   At the Pant Yr Ardd guest house run by an eccentric American Artist.    If I was daunted by the thought of having to cope with a bunch of highly intellectual housemates, then quickly the other seven lads at Pant Yr Ardd put me at ease.  I ushered my parents out as quickly as I reasonably could and settled seamlessly into college life.   First problem encountered on the first evening was facing the fact that there were no pubs in Tregarth thanks to Lord Penrhyn.  But we all hiked down to Bethesda that evening and had a great time together and quickly made fast friendships.   I think I am right in saying that at that time all the Bethesda pubs (and there were many) were on one side of the road because the middle of the road defined the limit of Lord Penrhyn's abstemious influence.
Freshers' week was great fun despite the long bus ride from Tregarth into Bangor (which became a feature of my first year!).    There was the regular bus which joined the A5 just outside of Tregarth, and then an occasional local bus which was purple and old which wheezed over the top and descended into Bangor down Lon Pobty.   I liked this option better.
I cruised the Freshers' Fair wondering how I could invent myself but then bumped into an old friend from my school in Bishop Auckland who had been the star of our school hockey team and had been in Bangor a year.  I had played on the school team but was far from a standout player.  But he hooked me right in and hockey became my thing in Bangor.  I also joined the scuba diving club (that Cousteau influence again).  Hockey was not only sport but a huge social milieu.  The hockey teams would meet regularly at the King's Arms in the high street (or King's Legs as we cleverly called it) and enjoyed epic trips to play other University of Wales teams – trips where by definition epic given the distance Bangor was from everywhere else as well as the roads not being as fast as I believe they are now.  Bangor's hockey team were surprisingly strong during that time and the first team even made the UAU final while I was there.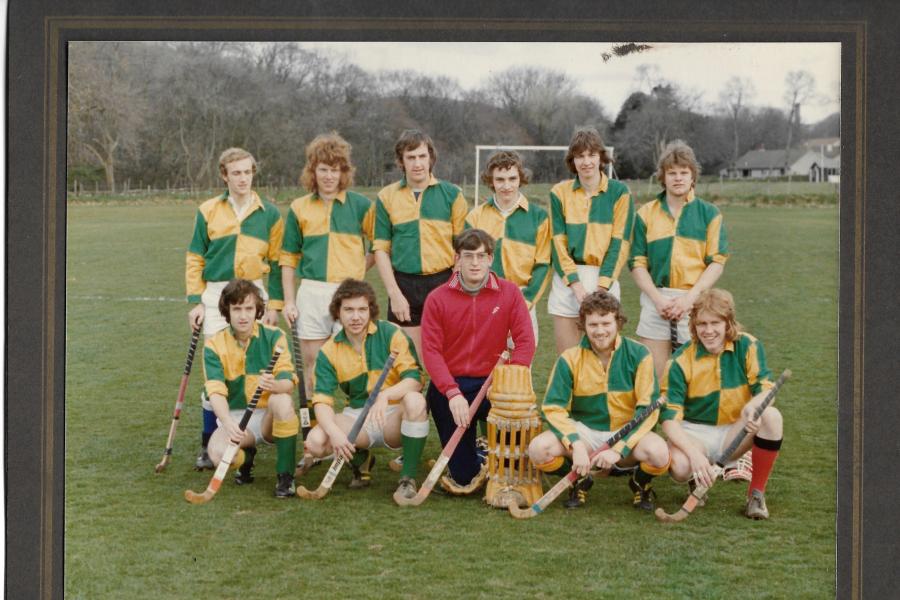 It was in Bangor that I also developed a love of birdwatching – mainly through a firm friend (and still a friend) who was also a hockey player (we were stalwarts of the second team - making only occasional run outs with the first team).   The local bird sightings were recorded in a notebook kept in the Zoology library and so we would frequently pop in to see if anyone had spotted anything unusual.   One great birding memory of Bangor life was hiking up from the village of Aber and around the Aber Falls up on to the tops of the Carneddau in May to see Dotterel (small but spectacular plover) who were on their migratory route north to breed in the Cairngorms of Scotland or further in to Scandinavia.
A feature of living out of town was the need to fill time between lectures and practicals.   This inevitably meant haunting the Students' Union.  Cups of tea in the curved lounge which I remember tasted of tea but smelled of the plastic cup – usually accompanying a cheese and onion roll.   The pinball and table footy rooms were also a favorite where we mingled with the Bangor chapter of the Workers' Revolutionary Party.   There were also long games of snooker when we could secure a table.  The Union had baths too (our digs only had one small bath for the 8 of us) and luxuriating in a deep hot bath would happen during the cold winter months - once you had scooped the cockroaches out. I remember Zoology students lurked in these bathrooms to collect cockroaches to do with them the sort of gruesome things zoology students did. And then the highlight of the week was the Curved Lounge Disco dancing to – well, anything really though Bowie's 'The Jean Genie' sticks in my head.   It was a sweaty affair and water ran down the windows by the end of the night.   Music went through a bit of a revolution during my time in Bangor with the emergence of punk and I remember seeing The Stranglers in the Union Bar.   Bangor had its own punk band too – The Inadequates – they were really excellent, and we pogoed along.
In my second year I moved with a friend into a flat in Llanfairfechan – pretty much sandwiched between the sea and the mountains.   Still a trek into Bangor but this time on an eminently hitch-hikeable which saved me a lot of bus fare.   We got a lot of visitors there on Sunday when Bangor pubs were closed but Llanfairfechan's were open.  I felt we were really embraced by the locals and dragged our work in to the pub where we were welcomed with warmth – both literally and metaphorically.
 And finally, in my third year I moved to the city – to Emrys Evans Hall.   I can't remember my room number, but it was on the ground floor and the corner room where a path cut through between buildings.   And so I got to wave and say hi to folk who passed by.   There was a cast of characters on the floor too, sharing a kitchen, stealing milk – and all policed by the firm but fair Mrs. Hughes. 
And then let us not forget there was the academic part!   I was pretty much thrilled by it all.  I learned so much that set me up for my career.   I was taught by some impressive and kind people in both the Marine Dept. at Menai Bridge and in the Plant Biology Department in the city.  Particularly with hindsight can I reflect on the quality of what was delivered. 
So many other memories, scuba diving in El Dorothea, cricket with Botany team (thanks Dr. Shattock), buying cheap cassettes at Cob records in Porthmadog, running on the Lavan Sands, taking water and algal samples on the moonscape of Parys Mountain Anglesey, going sampling in the Menai Straits on the RV Prince Madog, botany field trips to Juniper Hall and Malham, the Union TV room watching episodes of General Hospital (and England getting demolished by the Welsh Rugby team) and pushing a hospital bed from Caernarfon to Bangor for a rag week stunt - and then friends and an intense sense of camaraderie.   Bangor students and staff were the best – salt of the earth!     
Ultimately it was sad to leave.   We had once last hurrah at graduation and then it was gone.   Brains were fully loaded though, and I stepped forward to a PhD in Botany at Durham and then a life filled with adventures around the world – Africa mainly - working in a number of roles that involved teaching, research, environment and conservation.   I am still doing it.  I moved to New York City in 2001, fell in love, got married, had a son, travelled the world to support conservation projects and finally landed in Boulder County, Colorado where I am currently directing a project to conserve grassland birds on the great prairies of the western Americas.
But again, what I most remember was the kindness of people.  Some lifetime friends were made, and social media has helped me reconnect with a few others.  But I can recall so many moments and faces (even if I can't remember all the names).   I look back on my Bangor time with a great deal of gratitude (and yes, a little bit of nostalgia!).  Maybe it is through the telescope of time but they seemed carefree days and I am ever grateful to the University and the City for allowing that special experience and filling my head with knowledge that I use to this day.

As I was writing this little piece, I did a little online touring of the places I knew in and around Bangor.  Some are gone, some don't square with my memory and some look exactly as I recall.   Sadly, in the 42 years since I left, I have never been back – post COVID I will have to fix that and persuade my family along on a nostalgia-laden trip to beautiful North Wales – it'll probably rain!"
It looks like you're visiting from outside the UK, would you like to be redirected to the international page?