"50 years ago! A lot has happened to and for me since then, but my Bangor experience endures."
I gained an Economics degree and played a lot of football.
First, the football. Soccer Club – I was a member of the team which regained the 'Woolie Cup' in 1973, beating overwhelming favorites, Coleg Normal, in a famous 1-0 victory. Student Union President C.T. Burke awarded the team honorary life-time membership of the Students' Union, but I have no proof, as an ex-wife shredded my membership card. Who remembers the 1972 Soccer Club tour to Spain? If so, were you ever allowed back? I went on to have an unremarkable soccer career, passing through Warrington Town for a few weeks, all the way down to Div 5 of the Swindon Sunday League. Only for a resurrection in California playing for over-35, then over-50 teams, my last notable achievements being for the Britannia Arms, Cupertino.  I retired from soccer after 50 years of playing.
Through Soccer Club, team ethic, camaraderie and loyalty were reinforced; further, it taught me a life and career lesson in the value of being surrounded by people more skilled than I, and what can be achieved together. In those days we ran 6 teams, so we all knew humility, never to take oneself too seriously. The most important outcome was that shared experiences forged strong bonds; for me, with Paul Landing, Bryn Jones and (Sir) John Jones – we still have regular Zoom calls, and, believe me, none of us is allowed to take ourselves too seriously.
Each is worthy of a separate alumni profile but I'll go first. I made it back to probably 3 of my first 5 Old Stars (1974-79), one in ~2002, and my last in 2017. Paul, on the other hand, has missed just one pre-Covid Old Star weekend since 1974. A Stockport lad, he came to Wales and never left, carving his teaching career in Wrexham, thereby influencing generations of Wrexham's future. So, if there are any Wrexham parents out there who in the last 45 years have looked at their teen and asked: "How?" or "Why?", I might just have answered your question.
Bryn was a 'local'. In those days, we all needed one to guide us, explain and translate language and traits, and to apologize on behalf of the rest of us. He too went on to teach, but exiled to Yorkshire. But his car number plate (GWxxLAD), Anglesey retreat and general demeanor indicate his deep Welsh roots. He epitomizes the Welsh sports fan who will talk about Welsh Rugby regardless of the topic, and support anyone who plays against England.
The third teacher of the group, John, is an Evertonian, an engaging person and storyteller who was knighted for services to education. His professional development elevated him through head teacher, consultant, author into speaking – something he has always excelled at and still gets paid for. You can find his books and stories at https://sirjohnjones.com/ If he ever says, "Have I told you this story…?", just say yes quickly, even though it probably won't make any difference.
I came to Bangor from Leicester, one of those of my generation who was the first in the family to attend University, and who may not have otherwise had the chance but for free tuition (yes, those were the days).  I am forever grateful for the opportunities that came my way. I started in Bethesda and ended in Plas Gwyn, as the commute to anywhere important was easier. My major was Economics, with emphasis on Labor Economics. The University Economics Department challenged me with a project at Shotton steelworks, and my career choice was cemented. Because of Bangor, I enjoyed a fulfilling career in Human Resources, growing into UK, European and global leadership roles which included moving to USA Corporate HQ (Silicon Valley) in the 1990's. I stayed. I believe my experience of navigating life in Bangor and N Wales prepared me for managing within and across diverse cultures throughout Europe, living in California and leading HR/business teams in India, China, Russia and Japan. Bangor helped me establish a foundation for lifelong learning and learn the need for a keen work ethic.
I retired in 2017 and when unable to travel, I enjoy the San Francisco Bay area, volunteer in community mediation and teach Anger Management skills in our local County Jail, which might surprise anyone who remembers my football red card record.
Coming full circle as my cohort celebrates 50 years on, 4 years ago we met up again, and I was so proud to bring my American wife, Carol, to Bangor, to Snowdonia and surrounding areas, and she also fell in love with the place. Incidentally, her family are the only people in the world who believe I can accurately pronounce 'Llanfairpwllgwyngyllgogerychwyrndrobwllllantysiliogogogoch'."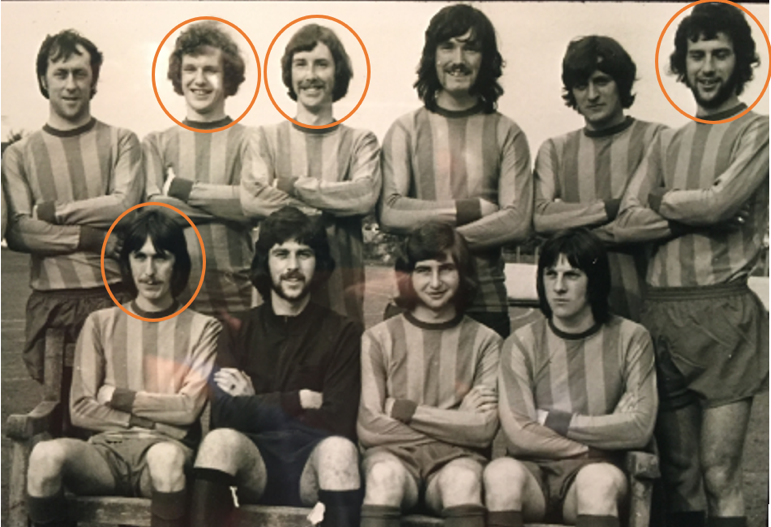 Photo circa 1972 – Soccer Club
Back: Jones, John Jones, Bryn Jones, Aplayer, Hardy, Ian Gray
Front: Paul Landing, Rawlins, White, Clare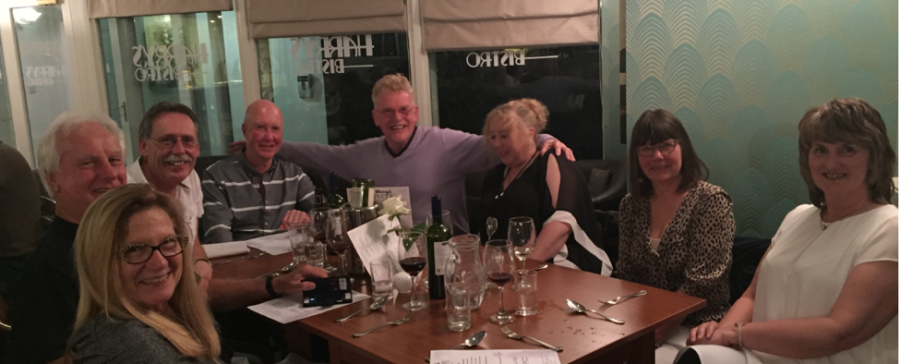 Gray, Landing, Jones B and Jones J, in 2017, with respective partners in a Beaumaris hot spot
It looks like you're visiting from outside the UK, would you like to be redirected to the international page?