"My Bangor friends have remained among my closest to this day"
"Before I started my degree in English Literature and French at Bangor, I'd left my home in Guernsey to work for a year as an au pair in the south of France. Although Bangor was my first choice of university, I'd lived too far away to ever visit, so it was something of a culture shock to arrive in the small hilly town, with distinctly un-Mediterranean skies, and some interesting consonant combinations to grapple with! 
On reflection, Bangor was not an obvious choice for me. I like the anonymity and rich cultural life of capital cities. I wasn't sporty and had no desire to take up climbing or mountain walking – I didn't even own a fleece! But I'd heard good things about the Arts faculty, and by the third term, I'd found my people among my fellow English Lit students. 
I'd always loved writing creatively and had first seen my words in print a couple of years earlier, when a piece I'd written on school discos was selected for publication in an anthology on young women's lives by Virago Press. But as an undergrad, I must confess I spent more time talking about writing than actually doing it! I have particularly fond memories of lounging on the grass outside Llys Tryfan hall of residence, during a freak heatwave (yes, it warmed up eventually) discussing life, love, and the metaphysical poets, with people who cared just as much as I did about all things literary. 
It's true what they say about university friendships - my Bangor friends have remained among my closest to this day. I'm not much of a joiner although I did take to the stage as Mrs Cratchit in a BEDS (Bangor English and Drama Society) performance of A Christmas Carol, in which I boxed Tiny Tim's ears with such vigour that the actor's contact lens flew out. (They were non-disposable in those days so much time was spent on hands and knees afterwards, hunting for it. Sorry, Paula!) 
When I graduated in 1993, the UK was in the grip of recession. My final year English tutor, Dr Sylvia Ellis, said she could see me "in publishing", but the competition for entry level jobs was fierce. I still had the writing itch and toyed with the idea of doing an MA in Novel Writing at Manchester University, but my finances wouldn't permit it.  
So, I did like many graduates at the time and signed up for a four-week intensive course in Teaching English as a Foreign Language. This took me to Türkiye for a year and then Barcelona. I enjoyed teaching more than I'd expected, and I loved the novelty of living abroad and all the new experiences and interesting characters that came with it. I was writing sporadically on and off, but no - I still hadn't knuckled down and written that novel!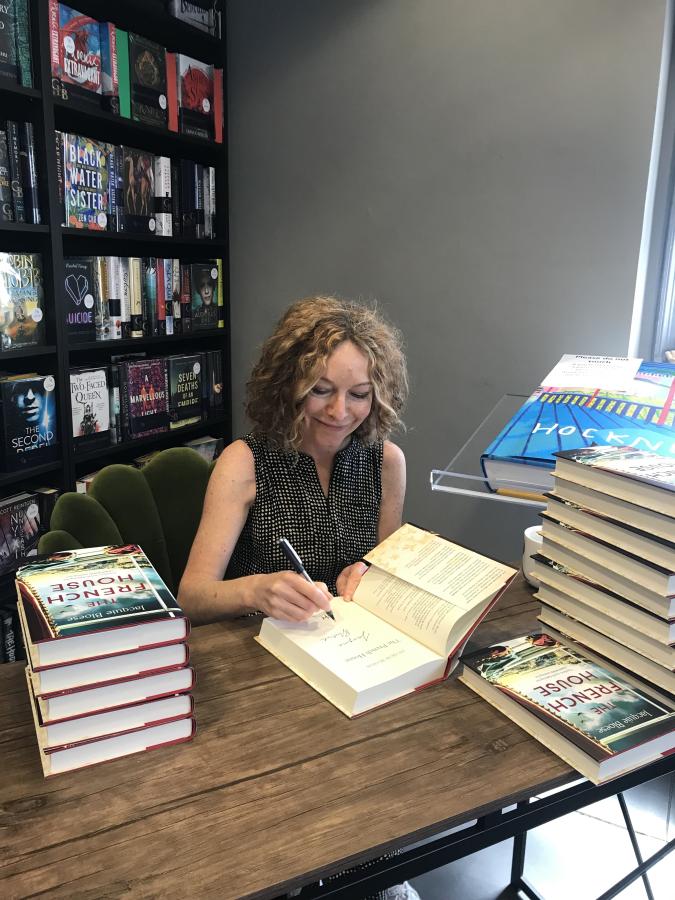 I came back to the UK and applied for a zillion editorial jobs in book publishing, until finally I was offered an assistant editor role in the English Language Teaching department at Oxford University Press. Dr Ellis had been right - it was a good fit for me and over the next twenty-five years, I worked for several major publishers including Scholastic, Macmillan and Penguin Random House. 
It wasn't until my fortieth birthday that I started thinking I should take my writing a bit more seriously. I enrolled for an evening class in novel writing and started my first novel, After the Affair. It was shortlisted for a couple of competitions but didn't secure me an agent. So, I wrote another one, inspired by family history, and set on Guernsey, during the Second World War. Originally called The Watcher of Hauteville House, it was picked up by an agent in the dark days of lockdown, re-titled The French House and pitched to publishers later that year. I can honestly say that the day I received an offer for a two-book deal from Hodder and Stoughton, just before Christmas was one of the best moments of my life! 
The French House has just been published, with my second historical novel The Golden Hour, due out next year. And it's probably no surprise that the Bangor friends who, thirty years earlier, I'd lived, travelled and shared my inner most thoughts with, were there in force at my book launch, cheering me on, understanding almost as well as I did myself how much it all meant."
www.jacquiebloese.com
The French House is available now in hardback, ebook and audio book.
Amazon
Waterstones
Goldsboro Books
It looks like you're visiting from outside the UK, would you like to be redirected to the international page?