"My time at Bangor University gave me such enormous confidence, independence and a belief in my abilities"
"I can still remember the first time I visited Bangor - I'd decided to take a look at the University, knowing nothing about the city other than the fact it had a really lovely picture on the front of the prospectus! It was a sunny day when I stepped off the train, and I instantly fell in love with Bangor, and from then on I didn't even want to consider a different University. The high density of pubs obviously played no part in that decision…
I loved growing up in Birmingham but it could not have been a bigger contrast to North Wales. For me, living somewhere with the sea, mountains and beaches all around us, and somewhere where I would see someone I knew every time I walked down the street was incredible and completely alien to me. When I arrived on my first day, I'd been assigned the Bryn Eithin halls beyond St Mary's, and driving up that mountain for the first time…it just kept going up and up. I knew then I would not be putting on the standard freshers 14 pounds! It was a fantastic halls, and being on top of a mountain meant a great shared camaraderie unlike anything else I've experienced since.
I have nothing but the fondest memories, of my first lecture in Main Arts, the hours spent poring over dusty old volumes in the library, and the social scene which I committed to a little too enthusiastically, and the friends I made who are my best friends to this day. I also joined the rugby and badminton teams, started the Make Bangor Fairtrade campaign, as well as creating an unofficial journalists' pub quiz team in my third year. I fell in love so deeply with the area that I stayed living there for several years after I graduated, working briefly at Ysbyty Gwynedd before landing work experience as a journalist on the North Wales Chronicle. It was meant to just be for a week, but they kept me on for 4 months! From that I got picked up by the Caernarfon & Denbigh Herald, before moving to Llandegfan on Anglesey and working for the Holyhead & Anglesey Mail, and later the Daily Post really cutting my teeth as a writer and beginning to think about what a dream it would be to an actual novelist. I've noticed that people from other Universities were always ready to leave come the end of their degree, but nobody ever was ready to leave Bangor!
 
Eventually I begrudgingly left North Wales to go and travel the world, spending several months in India, and ending up in Australia where I lived in Brisbane for a year, and it was there, way back in 2009, that I first had the idea for the novel that has just been published. My degree was in History with Journalism, and that is very much reflected in the sort of book that I chose to write. The book, a spy-thriller titled The Soviet Comeback, is set in the Cold War, with a fictional retelling of history, and touches on familiar subjects such as novichok poision, nuclear treaties, and most significantly endemic racism. It follows the story of a Nigerian immigrant living in Russia who is forced to join the KGB, because they believe that nobody would expect a black Russian spy. He reluctantly enters a world of assassinations, contrasting racist attitudes in the east and the west, and global powers, where enemies are difficult to avoid. Before long Nikita finds himself caught between two superpowers, two romances and a conscience grappling with the awful things he must to do for the people he loves.
 
The book took me over a decade to write, so the seeds of the idea which came to me in 2009 grew with me as I returned from Australia, living in Birmingham, Warwickshire, London, where I qualified as a therapeutic counsellor, then Sussex and now settling, at least for the time being, in Thame, Oxfordshire with my wife and daughter.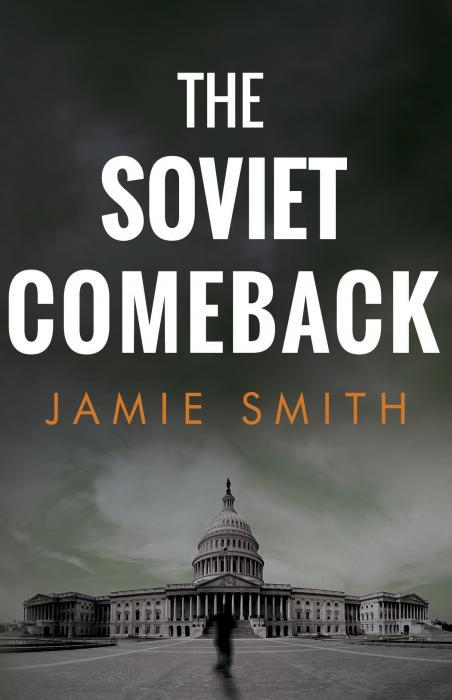 My lifelong dream, right from the beginning, was to one day have my own book published. I never thought I was very bright or any good so kept the notion to myself, believing it to be a far off and unreachable dream. But my time at Bangor University gave me such enormous confidence, independence and a belief in my abilities that I'd never previously had, that I can honestly say I would never had got to this point were it not for Bangor. Now I have to keep pinching myself that it's really happened, and I can only hope that people enjoy it! I endeavour to get back Bangor at least once a year, as a piece of my heart will be forever deeply embedded in it.
 
The book is now on sale The Soviet Comeback: Smith, Jamie: 9781800160491: Amazon.com: Books
 
To keep up to date with anything else I'm working on please do follow me on Facebook: www.facebook.com/jamiesmithbooks / Twitter: @JamieSmithBooks "
It looks like you're visiting from outside the UK, would you like to be redirected to the international page?