Student Profile: Henry Williams – Business Economics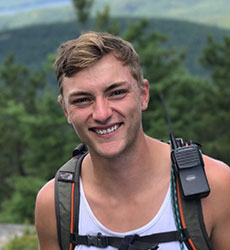 Henry Williams
Where are from and which school did you attend?
I'm a local to North Wales, having lived in Benllech on Anglesey. I went to high school in Bangor before being given the opportunity to go to Rydal Penrhos in Colwyn Bay, which I couldn't turn down.
The course…
I'm studying Business Economics BSc.
How did you do in your A Levels?
I had high hopes for my A levels, having been predicted AAA. It felt like the end of the world when on results day I opened the envelope to BCD in Economics, History and Maths.
Tell us about how you came to study at Bangor?
When I got my results, I was put in Clearing. My options were to either re-sit or start calling universities. I decided to call Bangor because I was already familiar with the area and knew what the uni was like. I was very relieved when I got the offer! I didn't want to have to re-sit the year in school without my friends.
Why did you choose Bangor University?
I knew Bangor very well, liked the layout of the university, and I still had friends here before I came. I also knew what the halls were like, and opted in for Peris hall in Ffriddoedd Village in my first year.
The course…
I do enjoy the course, I like how we study many different topics, even straying away from economics through modules in marketing and accounting.
What activities do you participate in whilst at University?
As soon as I got here I got heavily involved in the Rugby Union team. I loved playing in my first year, but especially love the social aspect of the club. We're all great friends. I actually met all my housemates this year through Rugby. I'm now also the Club Secretary, which is a great, fun role to have in the club.
Would you recommend this university to prospective students?
Yes absolutely, and I have. I was delighted to see one of my friends from Rydal, in the year below come to Bangor this year, after he had many conversations with me about Bangor.
Any advice for students worrying about their A Levels?
Do as best as you can. Don't worry, if things don't go your way, It's not the end of the world. There are other options, like I found out. I never thought I'd be coming to Bangor. If I had the option to go back and change where I went, I wouldn't.