Student Profile: Jenny Länsman – Business Studies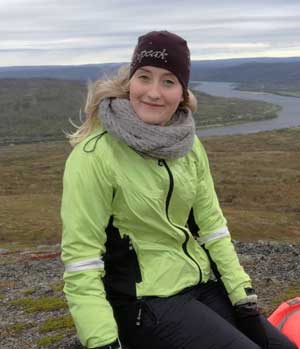 Jenny Länsman
Jenny Länsman from Finland is a third year BA Business Studies student
Why choose Bangor University?
I first heard about Bangor University when doing research on universities in the UK and tumbling across a ranking chart. I noted Bangor's (especially its Business School's) ranking in the UK. After doing some research, I learned about the astonishing nature of North Wales and that the university was at the top of its class on student satisfaction. I decided to apply to test my chances- and got in!
The International Student Ambassador scheme
I believe that this diversity is what makes Bangor University so amazing, and I am honoured to be able to support such cause – which is why I find this scheme very important. International Student Ambassadors help international students to settle in Bangor so that they can transition to their studies as smoothly as possible. I'm excited to be part of this scheme that provides extra support for the international students, so I can contribute to making sure that they can have the same, amazing Bangor University experience as I myself have had so far.
What is the most difficult thing about being an international student?
The most difficult thing for being international student for me personally is being so far away from home, and not knowing how anything works. You can't cook the same things you would at home, because the main ingredient isn't sold here. The things are in different packaging, a new bank account needs to be opened, there are self-service checkouts - there are so many things that are new, it can be quite overwhelming. It may also be difficult to be separated from your family for long periods, as longer distances might make it difficult to travel back frequently.
The course
I do enjoy studying my course – especially the managerial elements of it. I am very interested in Human Resources management, which is why I love the fact that we have the option to pick a lot of modules that revolve around organisational learning, development and management.
So far, I have had a good experience studying in Bangor Business School. The lecturers are mostly encouraging and helpful. It is definitely worth it to go meet them during their office hours – it helps so much, and usually they are more than happy to help!
Social life in Bangor
I'm a member of Bangor Equestrian and the Crafting and Sewing Club, as well as Student Volunteering. I enjoy shopping and going for coffee (or for tea in my case). I also enjoy going jogging and walks with my friends, as well as travelling.
Life in Bangor
Bangor is surrounded by astonishing nature, and the snowy peaks of Snowdon can be seen in clear weather. Bangor has everything one needs – and mostly everything is accessible by foot! The surrounding areas in North Wales are easily accessible by bus or a car as well, so it's easy to explore the surrounding areas.
What will you miss most about Bangor when you leave?
The friendly community atmosphere – it really feels like everyone is sticking together in Bangor, and the student community is quite inclusive.
Support from the University
The University has been very supportive – all I have needed to do is ask, and things usually get solved with that. People at University are very friendly and helpful.
Advice for new international students?
Have an open mind – the Welcome Week especially might feel overwhelming and daunting, but during this time try to participate as much as you can. However, don't worry if you can't: there are a lot of opportunities to participate during the year as well! People are generally friendly and polite, so there is nothing to be scared of. Bring some things from home with you (like photos, posters and cups) in case you get homesick.