Student Profile: Mahshid Bagheri – Business & Management Studies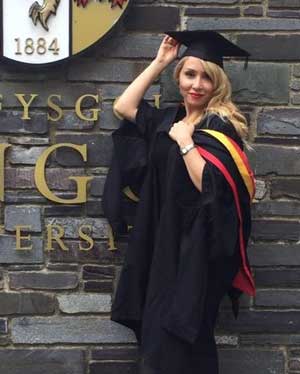 Mahshid Bagheri
Why Bangor
Browsing through the list of top universities in the UK, I concluded that the graduate study at Bangor University, which was one of the best pioneering and competitive universities in the UK was the ideal opportunity for me. Bangor University has achieved several awards and is ranked the Top 10 UK University for student satisfaction.
The International Ambassador Scheme…
Since I started studying at Bangor University, I got involved in several university activities which helped me a lot to improve my communicational and time management skills. I would like to support other students to settle in Bangor and get involved in university activities like I did and enjoy their time in Bangor while studying.
Most difficult thing about being an International student…
Feeling homesick, getting used to a new culture, difficulties in communicating with others and worrying about families that have been left behind are the most difficult things for international students. However, in Bangor University, if students do experience any of these difficulties, they can go to the international student support office to talk about their problems and concerns and the staff are always ready to help.
Best thing about the course…
The MBA course in International Business covers a broad range of business and management subjects which helped me develop my knowledge and skills of the concepts and theories relevant to international business. I am now a PhD student at Bangor Business School. I am applying the concepts and theories that I have learned during my Masters to make a contribution to knowledge in the area of international business. The unfailing support of my expert supervisors is the best thing about my PhD studies.
The academic school…
I found Bangor Business School as a strong base of knowledge and publications. This is a multidisciplinary school that offers high quality programs for undergraduate and postgraduate students. The best thing about Bangor Business School is the expertise, knowledgeable, supportive and kind staff who are always ready to help and provide valuable guidance and support for us.
Social activities…
I really enjoy the trips and events which are organised by the university. We can socialize with others, make new friends, explore the other areas in the UK and have a lot of fun together.
Best thing about Bangor…
I think the friendly environment is the best thing in Bangor. People are really nice and kind. The fantastic location and low cost of living compared to other cities in the UK are the other great things in Bangor.
What will you miss most about Bangor?
I will definitely miss the friendly staff who have always helped me during my studies at Bangor University. I will also miss the beautiful and fantastic places in Bangor such as Pier, Beach Road, Roman Camp, etc.
Has the University been supportive?
The staff have always helped me since I came to Bangor. I meet my personal tutor whenever I need help and have questions. I go to the international student support office if I have any problems or issues regarding my personal life, visa, etc. I know that they are always there for me and it makes me feel happy.
Advice for students planning on coming to Bangor?
I would tell them do not worry about anything, because all the staff, peer guides and student ambassadors are here to help them settle in Bangor. They are going to study in a university with a high standard of teaching and great facilities. They will enjoy the free clubs and societies' membership, the friendly atmosphere and the fantastic scenery.
The future…
Planning for the future means making decent decision now. I am currently focusing on my studies to provide a strong thesis and make a significant contribution to knowledge in the area of international business. I aim to develop my academic skills to enter into an academic career.