Student Profile: Nusiba Akhter Tasnim Omani – Banking and Finance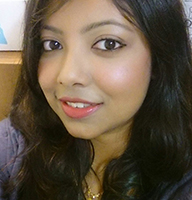 Nusiba Akhter Tasnim Omani
From: Dhaka, Bangladesh
Why choose Bangor?
Bangor University has a good reputation in Business Studies. I basically got to know about Bangor University from faculty members of my previous university (North South University, Bangladesh). I also did my personal research and found that Bangor has a dedicated group of staff and gives priority to student welfare.
Bangor Business School has a very good reputation especially on subjects areas like Banking, Finance and Accounting. My choice of studies has always been Banking. A degree like BA Banking and Finance was exactly what I was looking for and this too in a reputed traditional university like Bangor University was something that I couldn't deny.
The International Ambassador Scheme
The International Ambassador Scheme creates a bridge to provide all necessary support to prospective as well as current students of Bangor from different countries around to world to blend in to this amazing and beautiful place known as Bangor.
I know the complexity that an International student faces. For a person from a different culture this fear can be very nerve racking. However a supporting hand can make the experience much enjoyable. I wanted to share my experience and communicate with new students to make them more comfortable and more open.
What is the most difficult thing about being an International Student?
Now that we live in a global world I don't think it's as difficult being an international student. The main challenge however can be home sickness. However making a few friends and living in university accommodation, joining your desired societies can bring new experiences and eliminate fear.
The course...
Bangor has a wide range of subjects on offer. I chose Banking and Finance as I always wanted to study this. My course involves lecture classes and tutorials. Examinations are fragmented between class tests, assignments and final exams. There is a number of modules involved every semester. I get very busy during the term time but for me it's exciting as I am investing my time into something that is productive to me.
Social Life...

I enjoy travelling a lot and meeting new people. Nature and new culture excites me. Plus I love going out with friends and playing tennis and doing some voluntary work. Anything to enjoy my time.
Best thing about Bangor...
For me choosing a university was tough. Also being a woman from a Muslim family my main concern was safety. Bangor is one of the safest cities in the UK. So for me this is definitely the best thing about Bangor. Then comes the people of Bangor - everywhere you go they will always greet you with a smile. The natural beauty of Bangor is to die for. These are probably just a few things among all the other amazing things that Bangor has to offer.
When I leave Bangor, I will definitely miss all the lovely people I have met here. Bangor's natural landscape will always be kept in my memories. And of course my favourite place - Bangor pier.
Has the University been supportive during your time here?
Yes. The University has not only helped with my studies but has also helped me with complex situations that I have faced.
Advice for prospective students...
It doesn't matter if you are rich/poor or if you can't speak fluent English yet. All that matters is how confident you are and how eager you are to learn about a new place. Be open, smile and make some good friends. You will love Bangor.
Life does not always go according to your plan. If you are not positive it is almost impossible to learn new things. Don't think too much about things. Do what your heart tells you to do. Plan your studies, make a proper routine and try your best to follow it, enjoy your moments - Bangor will be like the next best home in no time.
The future...
My future plan is to open up my own hotel business. My degree is not only helping me to understand about the complexity of finance but it is also providing me with confidence to follow my dream. But if things don't go according to plan I will choose a profession where I get to travel a lot.