Student Profile: Reda Abdelkareem – PhD in Strategy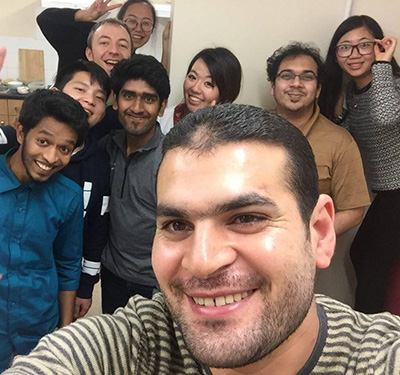 Reda Abdelkareem
From: Egypt
Why choose Bangor?
I heard about Bangor University from friend who was studying there. He mentioned Bangor was very friendly, had excellent facilities and was a nice place to live and enjoy with nice location. Thereafter, I tried to find out more about the Bangor Business School. I found it highly ranked and has an excellent reputation within UK and gain high student satisfaction.
The International Student Ambassador Scheme
International students struggle with many adapting problems related to their new life. Therefore, the scheme provides a channel to listen to the students and helps to solve their concerns appearing in their daily life. Also, It is a good feeling for new students to speak with colleagues rather than chat with staff particularly, if this colleague has a similar culture or background. It relieves feeling of homesickness.
For me I got lots of help from International Ambassadors when I first arrived to Bangor so I will be more than happy to help the new students and transfer my experience to them.
The most difficult thing about being an international student?
I think the most difficult thing as an international student is how to be friendly and close to new students and let them feel free to ask and get the advice from you, although they would be from different culture.
The Course...
Bangor Business School has a good reputation in UK and all over the world. PhD in strategy is the course which I enrolled in, however, it's well-organized. I gradually learn the different kind of methodologies and critical thinking. In addition, the school provides us with a huge range of training courses and doing regularly research seminars to develop the student's skills.
The best thing in Bangor Business School it has a number of lecturers and professors from many disciplines. Therefore, you can easily find a potential supervisor for your project. In addition, the school offers a good environment for research since it offers warm offices with desktop computers and laptops for PhD students. Furthermore, it offers them access to the school and library 24/7.
Clubs and Societies
Actually, there is a lot of clubs and societies in Bangor University that meet a wide range of interests. I actively participate in Islamic society. In addition, I represent my course to raise and solve any requests or problems for them from the school and university.
Social Life
I enjoy walking through the beautiful environment in Wales and travelling with my friends. Also, I enjoyed playing tennis and going to the university gym. Bangor is a very nice, safety and peaceful place to live. People are very friendly. It is a quite small town; however, it has all of things that you could think. Also, you will see the green colour wherever you look.
What will you miss most about Bangor when you leave?
I will miss the fresh air and the fabulous views. The weather however is very crazy but I really like it. Since I used to live in Egypt where a very high temperature is summer.
Advice for new students
Enjoy every minute you spend here in Bangor there are a lot of things to do beside studying and the university organise a lot of trips and fascinating activities for the students. Besides the international student office will help you to organise any special events you like to do.
What are your plans for the future?
Since I am already a lecturer at an Egyptian university, I plan to go back to my university and transfer the knowledge and experiences which I gained in Bangor to my students.