Student Profile: Rong Li – Banking and Finance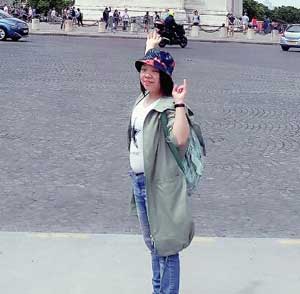 Rong Li
Rong Li, from China, is studying Banking and Finance at Bangor Business School.
Why did you choose Bangor?
I chose to study here because Bangor University partners with the Central South University of Forestry and Technology in Changsha. The University has strong resources, knowledgeable professors and a pleasant learning environment. All of these factors prompted me to seize the opportunity to go abroad to study. I was helped a lot by international officers, they are very friendly and always organize journeys to many famous places, which is a good way for new students to familiarise themselves with the new circumstances.
The International Ambassador Scheme
Being an international ambassador, I think the most difficult thing is the language, for those who aren't first language English speakers. But this is my reason to be an international ambassador because it is a good way to abandon my shyness and practice my English.
The course
My major is Banking and Finance, and I like that there are many practical lectures, like Comparative Banking, Statistics and Macroeconomics and Finance.
These are fundamental lectures to prepare us for work. In the library there are abundant resource, CDs, text books and newspapers to help you fully understand these lectures and you can make appointments with professors to talk about your obstacles.
Social Life
I have joined many societies in the past year, such as the Treborth Garden society, the international student society, the chess society and volunteering in Pontio. I have made many friends in these societies and I really enjoy it.
Life in Bangor
The natural scenery is so beautiful, you can breathe fresh air and the university is surrounded by the Snowdonia mountains. Meinai bridge and Bangor Pier are ideal places for walking. The people living here are very welcoming and kindly because they will say hello to strangers and they will give you a hand when you face troubles.
Support from the University
The University has helped me a lot because they have many activities that I can participate in, so I can transfer my focus on how to adapt to a new environment quickly, resulting in reducing my homesickness. They have many workshops to help you relax and give you methods to find a job in UK. Giving advice to new students , I want to say you should fully exert the resources provided by the university such as the gym and the library.