Student Profile: Shijia Wu – Accounting and Finance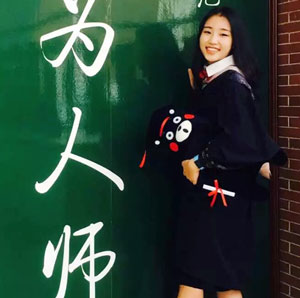 Shijia Wu
Shijia Wu from China is a third year Accounting & Finance student.
Why did you choose Bangor?
I chose Bangor University because my professor recommended it, and also I'd seen positive evaluations by the senior students I know.
The International Amassador Scheme
I want to be a bridge to connect the Chinese students and other international students and local students. Because in a diverse community mutual understanding is hard. And for Chinese students, the coursework and other things were already so tiring, and meeting people outside their circle just seemed so scary and unnecessary. So I want to help them to adapt at beginning.
The most difficult thing about being an international student?
The cultural difference. Such as, the nervousness of asking a question which seemed so obviously and silly. And language, I was so worried about my spoken English, and I was afraid other students would laugh at my accent.
The Course
I have learned a diverse set of skills and knowledge, and most import of all, an open mind to learn.
Social Life
I am travel enthusiast and I often write articles about my travel for some travel websites.
Life in Bangor
I enjoy the atmosphere of this city, it's friendly and relaxing.The professors and tutors have helped me to adapt to life here very well. And I like the fish & chips!
Support from the University
Bangor University have the best student services I have seen before. And my personal tutor also helped a lot with my studies and life.

Advice for new students?
Be yourself amd try to break out of your comfort zone by meeting people outside your circle.