Student Profile: Wenhao Zhang – Accounting and Finance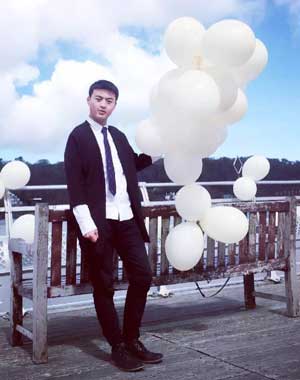 Wenhao Zhang
Wenhao, from China, is studying Accounting and Finance at Bangor Business School
Why did you choose Bangor?
I heard about Bangor University when I was studied in the international program at BFSU in CHINA, and Bangor University is located near a British national park where is a very good and beautiful place for study. In addition, Banking and Accounting in Bangor Business School have a good reputation. Because of both the good location and the teaching quality, I decided to come to Bangor University.
The International Ambassador Scheme
The reasons for me to be an Ambassador are quite simple: I just want contribute to help international students that need a hand.
The most difficult thing about being an international student
Being an international student will not be easy sometimes, it even will be tough. You are flying long time away from your home and that means your parents can not take care of you any more. You have to face every challenge by yourself. First you have to know how to make food. Then you have to socialise with people from all around the world to build your own social circle.
The course
I study Accounting and Finance. The best thing about my major is that we can have the opportunity to study both the accounting and finance, which means we are the inter-disciplinary people. We can have more and wider career choices in future. We can understand finance report and go on to do accountancy or if we're more interested in finance we can develop careers in securities companies, banks and fund companies.
My academic school is a field-leading professional international business school. The academic school looks after us and each have our own personal tutor. The best thing about my school is that we have many business competitions running through the whole academic year, for instance the Stock Exchange challenge, Entrepreneurship games and Business challenges.
Social Life
We have all kinds of clubs and societies and I have joined the rowing club. The most wonderful thing is that we have a lake nearby to doing the training.
Life in Bangor
The best thing about living in Bangor is that it's convenient. Bangor is a smalltown, so you can go anywhere by foot. This will save you a lot of money in transport costs.
Support from the University
Bangor University has supported me in every way. Before I arrived I booked the airport pick up service through the international office. During my studying time, I got my personal tutor help through all the difficulties. When I was looking for job opportunities, the careers service provided a professional service like checking my CV.
Advice for new students
My advice give to the new students planning on coming to Bangor is get ready for your dream.