Accounting lecturer delivers research-based workshop to HMRC senior officials
Sara Closs-Davies, Lecturer in Accounting for Bangor Business School and the Coleg Cymraeg Cenedlaethol, recently delivered a workshop based upon her own research to senior tax officials from HMRC.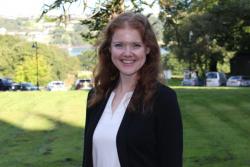 Sara Closs-Davies
Held at Manchester Business School, the workshop explored the impact of HMRC performance management systems on both its officials and citizens.
The content was based on Sara's research into the tax credit system, which has shown that constraints put upon HMRC staff lead to the disaggregation and loss of information, pressure, stress and disempowerment of officials at work. This, argues Sara, has a knock-on effect on tax credit claimants and their children, who are consequently left in extreme financial hardship, suffering from anxiety, stress, depression and also their disempowerment.
Attendees were encouraged to participate in role-playing exercises and open discussions on this highly important issue in today's society.
"This workshop was part of my on-going research which examines tax and welfare policy design, its implementation and impact in the real-world" explains Sara. "Its aim is to highlight aspects of good practice and illuminate problems in order to improve future policy and practice, as well as the experiences of both officials and citizens, and to alleviate the financial hardship experienced by claimants.
"The HMRC officials who attended the workshop were highly engaged and motivated. It was a pleasure to have open discussions about my research with senior HMRC officials, which proved very insightful and useful for everyone."
Publication date: 1 February 2017