Britons see volunteering as a hobby or a way to network rather than a chore

This article by Stephanie Jones, PhD student of sociology, studying civil society, volunteering and participation, at the School of Social Sciences Bangor University, was originally published on The Conversation. Read the original article.
Despite the UK being named Europe's most generous country last year, new data from the Office for National statistics has shown that volunteering for charities and other organisations in the country declined by 7% in the three years to 2015. Furthermore, over the past decade there has been a 15.4% fall in the total number of regular hours dedicated to volunteering, dropping from to 2.28 billion from 1.93 billion hours.
This, according to the Office for National Statistics, resulted in a loss of more than £1 billion between 2012 and 2015.
This downturn doesn't show the whole picture, however: the ONS also found that more young people are getting involved with volunteering initiatives. And that though the amount of time spent volunteering has declined, more people are signing up to volunteer.
Nationwide volunteers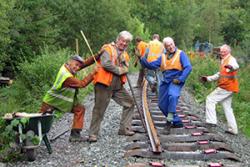 Ffestiniog Railway volunteers enjoying their volunteering experience.These national stats also don't show how volunteering is distributed across the country. Wales, for example, has a population of just over 3m people, 940,533 of which are currently engaged in formal voluntary activity (approximately 32%). In England, 15.9m individuals volunteer frequently from an overall population of 53.9m. While in Scotland 1.3m people volunteer out of a population of 5.3m.
But again these figures just can't tell the whole story: in addition to the 940,533 formal volunteers in Wales – who work with community groups, raise funds for charities and work in charity shops – 1.6m volunteered informally, doing things like visiting elderly neighbours and running errands. Likewise, informal volunteering figures are also high in England (18m) and Scotland, (1.9m).
While these informal volunteers tend to stick close to home and help their local community, my own research has found formal volunteers go further afield. Looking at the role and experiences of heritage railway organisations' volunteers in North Wales, I found that people say they are substantially more willing to travel across the country to work on projects which mean a lot to them. Volunteering has declined considerably over the past decade in rural locations but while participation in "traditional" forms of associations – for example, attending church or chapel and taking part in their charitable projects – has fallen, volunteering in the heritage industry has increased.
Community and heritage
The North Wales Ffestiniog railway is the oldest narrow-gauge railway, with approximately 200 years of history. Currently, it has nine societies – one is based in Gwynedd, North Wales, while the other eight are located across England, from Sussex up to Dee and Merseyside. Volunteers perform a vital role in preserving the railway's heritage, and perform various roles such as driving, guarding and inspecting tickets on the trains.
While those who help neighbours do so on a daily or weekly basis, the motivations for the Ffestiniog volunteers are very different. They work with the railway often while on holiday to relax from a highly demanding job, escape from their lives and to participate in an activity which is not available in many towns and cities. Some also do it to maintain links to an area where they once lived or visited during childhood.
I've also found that volunteering is often seen as a way to make new connections. This is particularly prominent within the heritage sector where a significant proportion of its volunteers are either retired, or near retirement age. Their participation can help them maintain a social life, facilitate social connections, create new networks, and bridge the gap between employment and retirement.
Quite often numerous members of the same family take part in one volunteering activity too which becomes a family tradition. One participant has told me that his daughter, son-in-law, two nephews and three great-nephews all work with the Ffestiniog railway. And that "the whole atmosphere of the railway is of an extended family; other volunteers find the same thing".
Just like the informal volunteers, who help their neighbours or local community, the formal railway volunteers find a community and communal spirit in the organisation. While they may not be related by blood or marriage, volunteers' strong friendships often results in feelings of family, belonging, camaraderie, community, and identity. As another volunteer said:
It is fantastic sharing a hobby and interest with people who feel and enjoy the same things. I suppose in a way, it is seen as a peculiar hobby to outsiders, but there is a great sense of community and communal spirit amongst us, we are a team, probably a dysfunctional one, but a team nonetheless.
The truth is that facts and figures could never really represent the true picture of volunteering in Britain. Whether formal or informal, close by or far away, Britons are using their free time to make a difference – one that stats on their own could never truly portray.
Publication date: 24 March 2017