Dr Coetzer shortlisted for BPS Book of the Year 2016
Dr Coetzer, who holds a joint appointment with Bangor University and Betsi Cadwaladr University Health Board has had his book "Working with Brain Injury" shortlisted for the prestigious British Psychological Society Book Awards 2016. Dr Coetzer's lectures on the MSc Principles of Clinical Neuropsychology and that fact that his book is nominated in the 'Practitioner' category is a excellent illustration of the exposure to modern neuropsychology practice that Clinical Neuropsychology MSc students get at Bangor.
Working with Brain injury aims to create a self-study resource for the reflective practice of practical skills as well as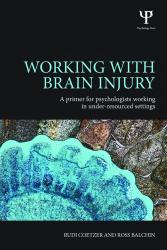 functioning as a teaching resource. The book is written in an almost conversational style well illustrated in this quote from the authors " Clinical neuropsychology is a curious beast, representing equal measures of science and art." The book has had many positive reviews being described as "...a compact yet comprehensive and pleasant reading experience, which prepares the reader for the task of working with patients who suffer from brain lesions." and by another reviewer as the "…must-have' guide to the essentials of working as a neuropsychologist in any setting…"
Speaking of the shortlisting Dr Coetzer commented, "I was delighted to hear that 'Working with brain injury' had been shortlisted for the 2016 British Psychological Society book awards, in the Practitioner category.
The book distils the essential academic knowledge necessary to inform good neuropsychological care of patients with acquired brain injury, whilst acknowledging that resources to deliver this are almost never infinite. Excellent research informs clinical practice, gold standard clinical practice in turn relies on excellent teaching and research. Hence for me personally, writing a book like this would not have been possible without the many years of support, intellectual stimulation, encouragement and collaborative opportunities consistently provided by both of my 'homes' – the North Wales Brain Injury Service, Betsi Cadwaladr University Health Board NHS Wales, and the School of Psychology, Bangor University. "
A full list of the nominees can be seen here (http://www.bps.org.uk/news/society-honour-years-best-psychology-books) and the winners will be announced in the autumn.
Publication date: 16 August 2016