Dr Koen Bartels leads knowledge exchange visit to Amsterdam
Dr Koen Bartels, Lecturer in Management Studies, recently led a knowledge exchange visit by members of Tree House Liverpool CIC to City District Amsterdam-West in the Netherlands.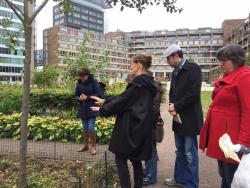 A local resident shows the group and Dr Bartels (second from right) around an urban garden managed by the community to foster an inclusive and sustainable public space
Government in both the UK and the Netherlands strongly encourage local people to take charge of the well-being of their communities. However, much is still unclear about how such social innovation should be done, including how to deal with resistance from existing governance systems to new ways of working. The purpose of this visit was, therefore, to explore how innovative approaches to improving local well-being can be grown in authentic and sustainable ways.
The group (which consisted of volunteers involved in an innovative community organisation) visited community groups with significant responsibilities and minimal resources; artist collectives engaged in place making and community building; and public agencies creating environments for people to enhance their well-being. They also engaged in joint reflection with people from Amsterdam on local contexts, underlying dilemmas and practical ways forward.
Dr Bartels was awarded a Knowledge Exchange Fellowship, funded by the Bangor University ESRC Impact Acceleration Account, to facilitate the visit, as well as a series of follow-up workshops to promote further learning and local knowledge exchange.
Publication date: 18 October 2016