forestry@bangor Triumph in National Forestry Student Competition
Bangor Forestry Students Association (BFSA) were awarded £4,000-worth of the latest forestry technology at the recent National Forestry Student Conference, held at Moulton College in October 2017. Organised by the Royal Forestry Society, as part of the 'Future Foresters' initiative, the event was the first of its kind.
Sorbus International, a major supporter of the event, partnered with Haglof of Sweden to run a competition, with a Haglof DP II computer calliper mensuration system as the prize offered. The task was to write an article of up to 1,200 words on "The impact of advancing technology on Future Foresters", with reference to how educational institutions can promote the practical and theoretical application of technology in relevant degree programmes. James Walmsley, course director for undergraduate forestry programmes at Bangor University, and George Dennison, 3rd year student and President of the Bangor Forestry Students' Association (BFSA), co-authored the forestry@bangor entry.
Their article reflected on how major technological advances have affected forestry over the last few centuries, using the lessons learned as the basis to predict future technological advances and the potential impacts on future foresters. James said "it was great fun writing this article with George. We were able to draw on a range of sources, in particular on various discussions with Dr Alec Dauncey, forestry@bangor Teaching Associate, who recently completed his PhD entitled Forestry policy : hindsight, forethought and foresight." George had the honour of receiving the prize on behalf of BFSA and Bangor University from Phil Wade of Sorbus International and Jonas Wikner from Haglof Sweden.
George Dennison, who is also the northern European representative for the International Forestry Students Association (IFSA) said "I am thrilled we won the equipment kindly provided by Halgof as this will help students develop their professional and technical skills tremendously." James Walmsley, who co-founded BFSA with Dr Martin Price in 2005 and now acts as mentor to the student association, said "Winning this fantastic piece of technology is a great honour for Bangor University and for BFSA and it will help us to ensure our students get the opportunity to gain experience in using use the very latest equipment. We're very grateful to Sorbus International for supporting the event with this very generous prize."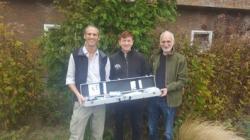 James (left), George (centre) and Alec (right), with the university's new Haglof DP II computer calliper mensuration system. Picture © Genevieve Agaba
Publication date: 10 November 2017