NRN-LCEE Public Lectures at Bangor University: 30 August & 12 September
Please see below details for 2 upcoming NRN-LCEE Public lectures at Bangor University.
Both events are being organised by the Sêr Cymru National Research Network for Low Carbon, Energy and Environment (NRN-LCEE).
NRN-LCEE public lectures are free to attend and open to the public. There is no need to book a seat.
'The role of sea foods in reversing the global crisis in mental ill-health'
Imperial College London
Date, Time & Location:
Tuesday 12 September
17.00: Free drinks reception, PONTIO Level 5
17:30: Public lecture, PONTIO Lecture Theatre PL5
Location: Both the reception and lecture take place on the 5th floor of PONTIO Arts Centre Deiniol Rd, Bangor LL57 2TQ
Click here to add this event to your calendar
Prof. Michael Crawford is an internationally renowned researcher in nutrition and brain development. His work contributed to major breakthroughs is understanding brain growth and the evolution of the human brain, and predicted the present rise in mental ill-health.
He is the founder of the Institute of Brain Chemistry and Human Nutrition and the Mother and Child Foundation. Prof. Crawford has been a consultant to WHO and FAO and has been honoured internationally for his work.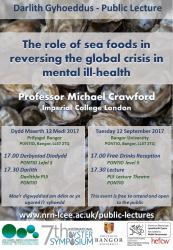 Publication date: 21 August 2016