Professor Peter Huxley presents social inclusion research findings to Hong Kong mental health service providers
Peter Huxley, Professor of Mental Health Research, in the Centre for Mental Health and Society has shared the findings of his ESRC-funded project at a workshop in Hong Kong.
Professor Huxley and his co-researchers, Dr Marcus Chiu (National University of Singapore) and Professor Kara Chan (Hong Kong Baptist University), discussed the outcome of their project, entitled 'Development of a Chinese Language Version of the Social and Community Opportunities Profile (SCOPE) for NGO services in Hong Kong'.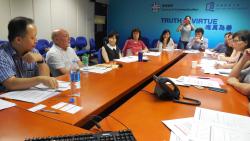 Peter Huxley, second from left, presents his research findings to representatives from Hong Kong NGOs
The workshop was attended by ten representatives from five NGOs, including Fu Hung, Society of Rehabilitation and Crime Prevention Hong Kong, The Mental Health Association of Hong Kong, Baptist Oi Kwan Social Services, and Caritas Hong Kong, plus a scholar from Hong Kong University.
The representatives discussed the ways in which social inclusion outcome measures could be embedded within routine measurement in the NGO services. Progress in the impact that this has on service provision and outcomes for service users will be monitored over the coming year, by the research team in Bangor, Singapore and the Hong Kong Baptist University. The team hope that the results will eventually also have an impact on policy making in care services in Hong Kong helping to shape policies that lead to better inclusion and well-being.
Publication date: 20 October 2015